Determination of biosorption mechanism in biomass of agave, using spectroscopic and microscopic techniques for the purification of contaminated water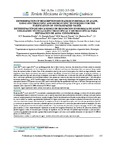 View/Open

Except where otherwise noted, this item's license is described as Atribución-NoComercial-SinDerivadas 4.0 España
Collections
Title
Determination of biosorption mechanism in biomass of agave, using spectroscopic and microscopic techniques for the purification of contaminated water
Author(s)
Date
2019-06-14
Citation
Hernandez-Botello, M., Barriada-Pereira, J., Sastre de Vicente, M., Mendoza-Pérez, J., Chanona-Pérez, J., López-Cortez, M., & Téllez-Medina, D. (2019). Determination of biosorption mechanism in biomass of agave, using spectroscopic and microscopic techniques for the purification of contaminated water. Revista Mexicana De Ingeniería Química, 19(1), 215-226.
Abstract
[Abstract] Lead (Pb2+) and copper (Cu2+) are polluting metals due to their toxicity; however, the extraction of these metals is essential for economic development, so it is important to look for efficient and low-cost alternatives that can remove heavy metals from the various bodies of water. One of the alternatives used in this work is biosorption, for which an agroindustrial waste (epidermis from Agave atrovirens) was used to evaluate the affinity of removal of lead and copper in aqueous solutions; in addition, spectroscopy and microscopy techniques were used to elucidate and corroborate the removal and affinity capacity of the agave epidermis for both metals studied. The optimal pH value for the removal of both metals was 3. The adsorption isotherms yielded a qmax of 25.7 and 8.6 mg/g for lead and copper, respectively. Adjusting to the Langmuir-Freundlich model, the adsorption kinetics were pseudo-second order, and it was found that the equilibrium time was at 140 min. The spectroscopy and microscopy analyses corroborated the affinity between metals and functional groups of the agave, as well as with the elemental analysis, which reported 17.38% of lead and 4.25% of copper.
[Resumen] El plomo (Pb2+) y el cobre (Cu2+) son metales contaminantes debido a su toxicidad; sin embargo, la extracción de estos metales es indispensable para el desarrollo económico, por lo que es importante buscar alternativas eficientes y de bajo costo que puedan remover metales pesados de los diversos cuerpos de agua. Una de las alternativas utilizadas en este trabajo es la biosorción, para la cual se utilizó un residuo agroindustrial (epidermis de Agave atrovirens), para evaluar la afinidad de remoción del plomo y cobre en soluciones acuosas; adicionalmente, se emplearon técnicas de espesctroscopía y microscopía que permitieron elucidar y corroborar la capacidad de remoción y afinidad que tuvo la epidermis de A. atrovirens para ambos metales estudiados. El valor óptimo de pH para la remoción de ambos metales fue 3. Las isotermas de adsorción arrojaron una qmax de 25.7 y 8.6 mg/g para el plomo y cobre, respectivamente. Ajustando al modelo de Langmuir-Freundlich, las cinéticas de adsorción resultaron de pseudo-segundo orden, se encontró que el tiempo de equilibrio es a los 140 min. El análisis espectroscópico y microscópico, corroboró la afinidad entre metales y grupos funcionales del agave, así como con el análisis elemental, el cual reportó 17.38% de plomo y 4.25% de cobre.
Keywords
Metals
Biosorption
Microscopy
Spectroscopy
Agave epidermis waste
Metales
Biosorción
Microscopia
Espectroscopia
Residuo de epidermis de agave
Editor version
Rights
Atribución-NoComercial-SinDerivadas 4.0 España
ISSN