Capacidad reproductiva de la mujer joven tras el tratamiento por un cáncer de mama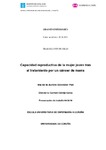 Collections
Title
Capacidad reproductiva de la mujer joven tras el tratamiento por un cáncer de mama
Author(s)
Directors
Cereijo-Garea, Carmen
Date
2019
Center/Dept./Entity
Universidade da Coruña. Escola Universitaria de Enfermaría de A Coruña
Description
Traballo fin de grao (UDC.ENFC). Enfermaría. Curso 2018/2019
Abstract
[Resumen] Introducción: el cáncer de mama es el tumor más frecuente en las mujeres occidentales, se diagnostican alrededor de 32.825 nuevos casos al año. Entre el año 2012 y el 2018 ha habido un incremento de un 30% en su incidencia y por consiguiente un aumento del número de casos en mujeres en edad reproductiva. El descenso de la edad media de diagnóstico, unido al creciente retraso de la maternidad por encima de los 30-35 años, plantea la necesidad de abordar la posibilidad de embarazo después del diagnóstico de cáncer de mama. Objetivo: analizar la afectación de la capacidad reproductiva en mujeres jóvenes con antecedentes de cáncer de mama y evaluar la supervivencia de las mujeres y la recurrencia del cáncer de mama tras el embarazo. Desarrollo: para la realización de esta revisión bibliográfica fueron consultadas exhaustivamente 8 bases de datos. Se limitó la búsqueda a trabajos publicados entre el año 2009 y el año 2019 elaborados en inglés, español y portugués. Una vez aplicados los criterios de inclusión y exclusión establecidos, se obtuvieron 24 artículos. Conclusiones: el cáncer de mama es la neoplasia más común en la mujer en edad reproductiva y menos del 10% de estas mujeres logran un embarazo después del tratamiento. No hay evidencia de nivel I publicada que respalde que el embarazo después de un cáncer de mama suponga un riesgo para la madre o para el feto, no aumenta el riesgo de recaída en pacientes oncológicas ni aumenta el riesgo de complicaciones perinatales. Con el fin de promover un aumento de la calidad de los cuidados en pacientes con cáncer de mama, es necesario aumentar la formación especializada del personal de enfermería implicado en su proceso asistencial.
[Resumo] Introdución: o cancro de mama é o tumor máis frecuente en mulleres occidentais, disgnostícanse ao redor de 32.825 novos casos ao ano. Entre o ano 2012 e 2018 houbo un incremento do 30% na súa incidencia e como consecuencia un aumento no número de casos en mulleres en idade reprodutiva. O descenso na idade media de diagnóstico, unido ao crecente retraso da maternidade por riba dos 30-35 anos, plantexa a necesidade de abordar a posibilidade de embarazo despois do diagnóstico de cancro de mama. Obxectivo: analizar a afectación da capacidade reprodutiva en mulleres xoves con antecedentes de cancro de mama e avaliar a supervivencia das mulleres e a recurrencia do cancro de mama despois dun embarazo. Desenvolvemento: para a realización desta revisión bibliográfica consultáronse exhaustivamente 8 bases de datos. Limitouse a busca a traballos publicados entre o ano 2009 e 2019 elaborados en inglés, español e portugués. Unha vez aplicados os criterios de inclusión e exclusión establecidos, obtivéronse 24 artigos. Conclusións: o cancro de mama é a neoplasia máis común en mulleres en idade reproductiva e menos do 10% destas mulleres conseguen un embarazo despois do tratamento. Non hai ningunha evidencia de nivel I publicada que respalde que o embarazo despois do cancro de mama supoña un risco para a nai ou o neno, non aumenta o risco de recaía en pacientes con cancro e tampocuco aumenta o risco de complicacións perinatais. Co fin de promover un aumento da calidade dos coidados en pacientes con cáncro de mama, é necesario aumentar a formación especializada do persoal implicado no seu coidado.
[Abstract] Introduction: breast cancer is the most common tumor in western women, about 32,825 new cases are diagnosed every year. Between 2012 and 2018 there was an increase of 30% in its incidence and consequently an increase in the number of cases in women in reproductive age. The decrease in the average age of diagnosis, together with the increasing delay in maternity above 30-35 years, raises the need to address the possibility of pregnancy after the diagnosis of breast cancer. Objective: to analyze the impact on reproductive capacity in young women with a history of breast cancer and evaluate the survival of women and the recurrence of breast cáncer after pregnancy. Development: 8 databases were consulted exhaustively to carry out this bibliographic review. The research was limited to articles published between 2009 and 2019 written in English, Spanish and Portuguese. Once the established inclusion and exclusion criteria were applied, 24 articles were obtained. Conclusions: breast cancer is the most common neoplasm in women of reproductive age and less than 10% of these women achieve a pregnancy after treatment. There is no published level I evidence to support that pregnancy after breast cancer poses a risk to the mother or the fetus, nor does increases the risk of relapse in cancer patients, nor does increase the risk of perinatal complications. In order to promote an increase in the quality of care in patients with breast cancer, it is necessary to increase the specialized training of nursing personnel involved in their care process.
Keywords
Cáncer de mama
Embarazo
Fertilidad y lactancia materna
Cancro de mama
Fertilidade e lactancia materna
Breast cancer
Pregnancy
Fertility and breastfeeding.
Rights
Os titulares dos dereitos de propiedade intelectual autorizan a visualización do contido deste traballo a través de Internet, así como a súa reproducción, gravación en soporte informático ou impresión para o seu uso privado e/ou con fins de estudo e de investigación. En nengún caso se permite o uso lucrativo deste documento. Estos dereitos afectan tanto ó resumo do traballo como o seu contido Los titulares de los derechos de propiedad intelectual autorizan la visualización del contenido de este trabajo a través de Internet, así como su repoducción, grabación en soporte informático o impresión para su uso privado o con fines de investigación. En ningún caso se permite el uso lucrativo de este documento. Estos derechos afectan tanto al resumen del trabajo como a su contenido