Amenaza NRBQ: ¿está la enfermería preparada?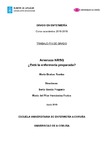 View/Open
Collections
Title
Amenaza NRBQ: ¿está la enfermería preparada?
Author(s)
Directors
García Fraguela, Berta
Hernández Frutos, María del Pilar

Date
2019
Center/Dept./Entity
Universidade da Coruña. Escola Universitaria de Enfermaría de A Coruña
Description
Traballo fin de grao (UDC.ENFC). Enfermaría. Curso 2018/2019
Abstract
[Resumen] Introducción: Un incidente NRBQ es el causado por la liberación de agentes nucleares, radiológicos, biológicos o químicos. Puede haber distintos tipos y provocar diferentes signos y síntomas. La autoprotección y evitar la propagación de la contaminación son las principales medidas que debería tomar el personal de emergencias para paliar sus efectos. Es necesario realizar un breve recorrido por la historia, fijándose en aquellos incidentes más significativos, para darse cuenta de que el riesgo sigue presente. Objetivos: Investigar sobre las actuaciones realizadas en incidentes NRBQ pasados para detectar las deficiencias, identificar el papel de la enfermería y valorar la necesidad de la creación de grupos especializados en NRBQ con colaboración de la Sanidad Militar en su formación. Metodología: Revisión de la bibliografía mediante intranet del Ministerio de Defensa, las bases de datos PubMed y Dialnet, Google Scholar y búsqueda manual. Resultados: La bibliografía revisada muestra que los distintos organismos usan diferente terminología, que la mayoría de las deficiencias fueron debidas a una mala coordinación entre ellos y a la falta de formación específica, y que las precauciones se tomaron una vez que los incidentes ya habían sucedido. Conclusiones: A pesar de que existen Planes de Emergencias, el personal sanitario no tiene formación específica en incidentes NRBQ. Aunque la probabilidad de que suceda uno de estos incidentes es baja, como sus consecuencias son graves, se recomienda la constitución de grupos sanitarios especializados en NRBQ. En su formación sería aconsejable la colaboración con las Fuerzas Armadas (FAS).
[Resumo] Introdución: Un incidente NRBQ é o causado pola liberación de axentes nucleares, radiolóxicos, biolóxicos ou químicos. Pode haber distintos tipos e provocar diferentes signos e síntomas. A autoprotección e evitar a propagación da contaminación son as principais medidas que debería tomar o persoal de emerxencias para paliar os seus efectos. Cómpre realizar un breve recorrido pola historia, fixándose naqueles incidentes máis significativos, para darse conta de que o risco segue presente. Obxectivos: Investigar as actuacións realizadas en incidentes NRBQ pasados para detectar as deficiencias, identificar o papel da enfermaría e valorar a creación de grupos especializados en NRBQ coa colaboración da Sanidade Militar na súa formación. Metodoloxía: Revisión da bibliografía a través da intranet das bases de datos do Ministerio de Defensa, PubMed e Dialnet, Google Scholar e búsqueda manual. Resultados: A bibliografía revisada mostra que os distintos organismos usan diferente terminoloxía, que a maioría das deficiencias foron debidas a unha mala coordinación entre eles e á falta de formación específica, e que as preacucións se tomaron unha vez que os incidentes xa sucederan. Conclusións: A pesar de que existen Plans de Emerxencias, o persoal sanitario non ten formación específica en incidentes NRBQ. Aínda que a probabilidade de que suceda un destes incidentes é baixa, como as súas consecuencias son graves, recoméndase a constitución de grupos sanitarios especializados en NRBQ. Na súa formación sería aconsellable a colaboración coas Forzas Armadas (FAS).
[Abstract] Introduction: An CBRN incident is caused by the release of nuclear, radiological, biological or chemical agents. There may be different types and cause different signs and symptoms. Self-protection and avoiding the spread of contamination are the main measures that emergency personnel should take to alleviate their effects. It is necessary to make a journey through history, looking at those most significant incidents, to realize that the risk is still present. Objectives: To investigate the actions taken in past CBRN incidents to detect deficiencies, to identify the role of nursing and to assess the creation of specialized groups in CBRN with the collaboration of the Military Health in their training. Methodology: Bibliographic review through the intranet of the Ministry of Defense, PubMed and Dialnet databases, Google Scholar and manual search. Results: The revised literature shows that different agencies use different terminology, that most of the deficiencies were due to poor coordination between them and the lack of specific training, and that precautions were taken once the incidents had already occurred. Conclusions: Although there are Emergency Plans, health personnel do not have specific training in CBRN incidents. Although the probability of one of these incidents occurring is low, as its consequences are serious, the establishment of specialized health groups in CBRN is recommended. In their training, collaboration with the Armed Forces (AF) would be advisable.
Rights
Os titulares dos dereitos de propiedade intelectual autorizan a visualización do contido deste traballo a través de Internet, así como a súa reproducción, gravación en soporte informático ou impresión para o seu uso privado e/ou con fins de estudo e de investigación. En nengún caso se permite o uso lucrativo deste documento. Estos dereitos afectan tanto ó resumo do traballo como o seu contido Los titulares de los derechos de propiedad intelectual autorizan la visualización del contenido de este trabajo a través de Internet, así como su repoducción, grabación en soporte informático o impresión para su uso privado o con fines de investigación. En ningún caso se permite el uso lucrativo de este documento. Estos derechos afectan tanto al resumen del trabajo como a su contenido