IberWQ: A GPU Accelerated Tool for 2D Water Quality Modeling in Rivers and Estuaries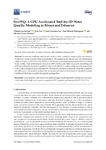 View/Open
Collections
Title
IberWQ: A GPU Accelerated Tool for 2D Water Quality Modeling in Rivers and Estuaries
Author(s)
Date
2020
Citation
García-Feal, O.; Cea, L.; González-Cao, J.; Domínguez, J.M.; Gómez-Gesteira, M. IberWQ: A GPU Accelerated Tool for 2D Water Quality Modeling in Rivers and Estuaries. Water 2020, 12, 413.
Abstract
[Abstract] Numerical models are useful tools to analyze water quality by computing the concentration of physical, chemical and biological parameters. The present work introduces a two-dimensional depth-averaged model that computes the most relevant and frequent parameters used to evaluate water quality. High performance computing (HPC) techniques based on graphic processing unit (GPU) parallelization have been applied to improve the efficiency of the package, providing speed-ups of two orders of magnitude in a standard PC. Several test cases were analyzed to show the capabilities and efficiency of the model to evaluate the environmental status of rivers and non-stratified estuaries. IberWQ will be freely available through the package Iber.
Keywords
Computational fluid dynamics
Depth-averaged modeling
Water quality
Environmental quality standards
High performance computing (HPC)
Graphic processing unit (GPU)
CUDA
Description
Este artigo inclúese no número especial "Modelling Flow, Water Quality, and Sediment Transport Processes in Coastal, Estuarine, and Inland Waters"
Editor version
Rights
Atribución 4.0 Internacional