Microenseñanza en el laboratorio de ciencias para el alumnado del grado de educación infantil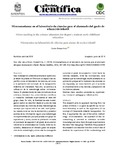 Except where otherwise noted, this item's license is described as Atribución-NoComercial-CompartirIgual 4.0 España
Title
Microenseñanza en el laboratorio de ciencias para el alumnado del grado de educación infantil
Alternative Title(s)
Micro-teaching in the science laboratory for degree's students early childhood education
Microensino no laboratório de ciências para alunos do ensino infantil

Author(s)
Date
2019
Citation
Dulsat-Ortiz, C. (2019). Microenseñanza en el laboratorio de ciencias para el alumnado del grado de educación infantil. Revista Científica , 36 (3), 367-380. Doi:https://doi.org/10.14483/23448350.14769
Abstract
[Resumen] Esta investigación pretende acercarse al aprendizaje desde los pilares de Delors en un espacio tan específico como el laboratorio de ciencias, así como a la aplicación del concepto de la transposición didáctica de Chevallard. Para ello, se acerca a la utilización de la metodología activa: microenseñanza. El planteamiento de esta microdocencia se orienta a introducir los conocimientos científicos y mostrarlos mediante experimentos al resto del grupo clase. Por ello, la finalidad de esta investigación radicó en describir desde el punto de vista del alumnado las vivencias de esta metodología las ventajas que supone esta al ser más participativa. La manera como se hizo la recolección y posterior análisis de la información siguió una metodología no experimental solo pos-pos-prueba con grupo no equivalente y único, siendo la población invitada el alumnado de segundo A del grado de educación infantil en la Universidade da Coruña. Entre los resultados, destacamos el elevado grado de aceptación de la metodología y cómo esta ha conseguido aumentar el grado de aceptación inicial hacia las ciencias naturales. Entre las conclusiones, cabe destacar que la metodología resultó acertada en su aplicación porque así lo mostraron las alumnas en sus respuestas, así como también por el aumento en el acercamiento a las ciencias y adquisición de los distintos saberes.
[Abstract] This research aims to approach learning from the pillars of Delors in a space as specific as the science laboratory as well as the application of the concept of Chevallard's didactic transposition. For this, it approaches the use of the active methodology: micro-education. The approach of this microteaching is oriented to introduce scientific knowledge and show them through experiments to the rest of the class group. Therefore, the purpose of this research is to describe from the point of view of students the experiences of this methodology and the advantages of this more participatory methodology. The method used for the collection and subsequent analysis of the information followed a non-experimental only post-test methodology with a non-equivalent and unique group, being the invited population the students of second A of the degree of infantile education in the Coruña University. Among the results, we highlight the high degree of acceptance of the methodology and how it has managed to increase the degree of initial acceptance towards the natural sciences. Among the conclusions, it should be noted that the methodology was successful in its application because students showed it in their answers, also because of the increase in the approach to science and acquisition of different knowledge.
[Resumo] Esta pesquisa visa abordar a aprendizagem a partir dos pilares de Delors em um espaço tão específico quanto o laboratório de ciências, bem como a aplicação do conceito de transposição didática de Chevallard. Para isso, aborda o uso da metodologia ativa: micro-educação. A abordagem desta microdocência é orientada para introduzir o conhecimento científico e mostrá-los através de experimentos para o resto do grupo de classes. Portanto, o objetivo desta pesquisa é descrever, do ponto de vista dos alunos, as experiências dessa metodologia e as vantagens dessa metodologia máis participativa. O método utilizado para a coleta e posterior análise das informações seguiu uma metodologia non experimental somente pós-teste com um grupo não equivalente e único, sendo a população convidada os estudantes do segundo A do grau de educação infantil na Universidade de Coruña. Entre os resultados, destacamos o alto grau de aceitação da metodologia e como ela conseguiu aumentar o grau de aceitação inicial em relação às ciências naturais. Entre as conclusões, destaca-se que a metodologia foi bem sucedida na sua aplicação, pois os alunos a mostraram em suas respostas, inclusive em função do aumento da abordagem da ciência e da aquisição de diferentes conhecimentos.
Keywords
Estudios universitarios
Experimentos
Innovación pedagógica
Método activo
Rights
Atribución-NoComercial-CompartirIgual 4.0 España
ISSN
2344-235