Influencia de la práctica de artes marciales en adolescentes sobre los parámetros del Foot Posture Index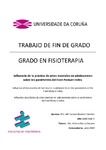 Title
Influencia de la práctica de artes marciales en adolescentes sobre los parámetros del Foot Posture Index
Alternative Title(s)
Influence of the practice of martial arts in adolescents on the parameters of the Foot Posture Index
Influencia da práctica de artes marciais en adolescentes sobre os parámetros do Foot Posture Index

Author(s)
Directors
Barcia Seoane, Miriam
Date
2019
Center/Dept./Entity
Universidade da Coruña. Escola Universitaria de Fisioterapia
Description
Traballo fin de grao (UDC.FCS). Fisioterapia. Curso 2018/2019
Abstract
[Resumen] Introducción/Antecedentes. La postura del pie se puede clasificar mediante la utilización de varios métodos, uno de ellos es el Foot Posture Index (FPI), se considera una herramienta clínica novedosa, y una de las pocas que ofrece una perspectiva tridimensional sobre la posición del pie, también se ha demostrado que presenta una buena confiabilidad intra-observador, basándose en la observación de 6 parámetros. La actividad física durante la infancia puede ser beneficiosa a largo plazo, en algunos estudios se ha establecido una relación directa entre la práctica de algunos deportes y la estructura del pie, pero aún no se ha estudiado la influencia de las artes marciales en la extremidad inferior. Objetivo. El objetivo del estudio es analizar si los parámetros del FPI sufren alguna variación cuando se practican artes marciales de forma habitual en adolescentes de 12 a 16 años. Material y Métodos. Se plantea un estudio descriptivo observacional en adolescentes de 12 a 16 años mediante una muestra de conveniencia, en el cual se medirán los parámetros del FPI. Se realizará el estudio comparando un grupo de adolescentes que practican artes marciales, y otro grupo sedentario, que no realiza actividad física, la muestra será de un total de 44 personas, 22 por grupo, escogidas en la ciudad de Talavera de La Reina (Toledo) pidiendo colaboración a la Universidad de Castilla – La Mancha (UCLM). A todos los participantes se les realizará una entrevista inicial donde se recogerán las variables dependientes y posteriormente se pasará a medir los distintos parámetros del FPI, esta medición se llevará a cabo en la misma franja horaria. En el caso de los deportistas se medirá inmediatamente después de finalizar el entrenamiento. El investigador será conocedor de los datos de los participantes y estos serán previamente informados de los objetivos y metodología del estudio. Los datos se recogerán en el software estadístico SPSS, y las variables serán analizadas mediante una prueba Tstudent.
[Abstract] Introduction/History. The posture of the foot can be classified by means of several methods, one of them is known as Foot Posture Index (FPI) which is considered a novel clinical tool, and one of the few methods that offers a tridimensional perspective about the posture of the foot. It has been demostrated also that FPI method has a good reliability intra-observer, based on the analysis of 6 parameters. The physical activity during childhood can be beneficial in long term basis; in some studies, it has been established a direct connection between the practice of some exercises and the structure of the foot, but the influence of some martial arts in the lower extremity has not been studied yet. Purpose. The purpose of this study is analyze the variation of the parameters of the FPI method in teenagers on theirs 12-16 years-old that practice martial arts usually. Method and Supplies. A descriptive observational study is considered, with teenagers on theirs 12-16 years-old, through a conventional sample, in which the parameters of the FPI shall be measured. The study shall compare two groups of teenagers: one that practice martial arts and the other that it is considered as inactive or sedentary. The sample shall be 44 people size, 22 per each group. The sample shall be choosen in the city of Talavera de la Reina (Toledo), working in cooperation with Castilla La Mancha University (UCLM). A general interview shall be done to all participants of the study; dependent variables and the parameters of the FPI method shall be recorded; this measurement shall be done in the same time zone. In the case of the sporty group, those parameters shall be measured inmediately after the training period. The researcher shall know the data of the participants and the participants shall be informed previously about the purpose and methodology of the study. All data shall be recorded within the statistical software SPSS, and the variables shall be analyzed through T-student methodology.
[Resumo] Introdución / Antecedentes. A postura do pé pode clasificarse utilizando varios métodos, un deles é o Foot Posture Index (FPI), considérase unha nova ferramenta clínica, e unha das poucas que ofrece unha perspectiva tridimensional da posición do pé, tamén se demostrou que ten unha boa fiabilidade intra-observador, baseada na observación de 6 parámetros. A actividade física durante a infancia pode ser beneficiosa a longo prazo, nalgúns estudos estableceuse unha relación directa entre a práctica dalgúns deportes e estrutura dos pés, pero a influencia das artes marciais e da extremidade inferior aínda non foi estudada. Obxectivo. O obxectivo do estudo é analizar se os parámetros do FPI sofren algunha variación ao practicar artes marciais de xeito habitual en adolescentes de 12 a 16 anos. Material e métodos. Planéase un estudo descriptivo observacional, en adolescentes de 12 a 16 anos, mediante unha mostra de conveniencia, na cal se mediran os parámetros de FPI. Realizarase o estudo comparando un grupo de adolescentes que practican artes marciais, e outro grupo sedentario, que non realiza actividade física, a mostra será dun total de 44 persoas, 22 por grupo, escollidas na cidade de Talavera de La Reina (Toledo) pedindo colaboración a Universidad de Castilla- La Mancha (UCLM). Todos os participantes realizarán unha entrevista inicial, onde se recollerán as variables dependentes e mediranse os diferentes parámetros do FPI, esta medida realizarase na mesma franxa horaria. No caso dos atletas, medirase inmediatamente despois de rematar o adestramento. O investigador coñecerá os datos dos participantes e informarase previamente dos obxectivos e metodoloxía do estudo. Os datos recolleranse no software estatístico SPSS e analizaranse as variables mediante un exame T-student.
Keywords
Foot Posture Index
Deporte
Adolescentes
Sport
Adolescent
Rights
Os titulares dos dereitos de propiedade intelectual autorizan a visualización do contido deste traballo a través de Internet, así como a súa reproducción, gravación en soporte informático ou impresión para o seu uso privado e/ou con fins de estudo e de investigación. En nengún caso se permite o uso lucrativo deste documento. Estos dereitos afectan tanto ó resumo do traballo como o seu contido Los titulares de los derechos de propiedad intelectual autorizan la visualización del contenido de este trabajo a través de Internet, así como su repoducción, grabación en soporte informático o impresión para su uso privado o con fines de investigación. En ningún caso se permite el uso lucrativo de este documento. Estos derechos afectan tanto al resumen del trabajo como a su contenido