Caso clínico de intervención intrahospitalaria y ambulatoria en un paciente con enfermedad pulmonar obstructiva crónica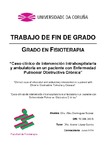 Title
Caso clínico de intervención intrahospitalaria y ambulatoria en un paciente con enfermedad pulmonar obstructiva crónica
Alternative Title(s)
Clinical case of inhospital and ambulatory intervention in a patient with chronic obstructive pulmonary disease
Caso clínico de intervención intrahospitalaria e ambulatoria nun paciente con enfermidade pulmonar obstrutiva crónica

Author(s)
Directors
López García, Asenet
Date
2019
Center/Dept./Entity
Universidade da Coruña. Escola Universitaria de Fisioterapia
Description
Traballo fin de grao (UDC.FCS). Fisioterapia. Curso 2018/2019
Abstract
[Resumen] El caso clínico que se presenta va a exponer la valoración y tratamiento en fase hospitalaria y ambulatoria, de un paciente de 74 años con Enfermedad Pulmonar Obstructiva Crónica (EPOC) que ingresa por un proceso agudo de neumonía. Lo que se pretende con dicho tratamiento es, por un lado, ayudarle a solucionar las complicaciones de su proceso agudo por medio de la permeabilización de la vía aérea y aumento de la distensibilidad pulmonar, y por otro lado, disminuir los síntomas respiratorios y músculo-esqueléticos que presenta por su EPOC, disminuyendo sus limitaciones en la actividad y mejorando su calidad de vida. Para ello, la intervención se dividió en dos fases: la hospitalaria, que constó de tres sesiones, donde se realizaron ejercicios de control de la respiración, técnicas para la eliminación de las secreciones, aumentar volúmenes y capacidades y ejercicio terapéutico para disminuir los efectos adversos de la inmovilización prolongada; y la ambulatoria, de quince sesiones, donde se llevó a cabo un programa de entrenamiento en cicloergómetro y un circuito por estaciones, buscando incrementar la tolerancia al ejercicio por parte del paciente. Tras realizar una valoración final y teniendo en cuenta cada una de las sesiones y la evolución del paciente durante las mismas, se han encontrado unos resultados que muestran mejoras en la mayoría de las variables evaluadas. De esta manera, se considera que se han conseguido todos los objetivos planteados, mejorando el patrón respiratorio, la permeabilización de la vía aérea y la distensibilidad pulmonar; y consiguiendo también la disminución de la disnea y la fatiga de MMII con el incremento de la tolerancia al ejercicio. Esto llevó a una disminución de las limitaciones en la actividad con la mejora final de la calidad de vida del paciente.
[Abstract] The presented clinical case will expose the assessment and treatment, in hospital and ambulatory phase of a patient who is 74 years old with Chronic Obstructive Pulmonary Disease (COPD), hospitalized for an acute pneumonia process. The aim of this treatment is, on the one hand, to help resolve the complications of his acute process by permeabilizing the airways and increasing pulmonary distensibility, and on the other hand, to decrease the respiratory and musculoskeletal symptoms presented by his COPD, reducing his activity limitations and improving his quality of life. To this end, the intervention was divided into two phases: hospital phase, consisting of three sessions, performing respiratory control exercises, secretion removal techniques, increasing volumes and capacities and therapeutic exercise to reduce the adverse effects of prolonged immobilization; and ambulatory phase, of fifteen sessions, carrying out a training program in cycle ergometer and a circuit by stations, seeking to increase patient´s tolerance to exercise. After making a final assessment and taking into account each of the sessions and the patient´s evolution during them, results have been found that show improvements in most of the evaluated variables. In this way, it can be said that all the objectives have been achieved, improving respiratory pattern, airway permeability and pulmonary compliance; and also achieving a decrease in dyspnea and MMII fatigue with greater exercise tolerance. This led to a decrease in activity limitations with the final improvement of the patient's quality of life.
[Resumo] O caso clínico que se vai presentar expón a valoración e o tratamento en fase hospitalaria e ambulatoria dun paciente de 74 anos con Enfermidade Pulmonar Obstrutiva Crónica (EPOC) que ingresa por un proceso de neumonía. O que se pretende con dito tratamento é, por un lado, axudarlle a solucionar as complicacións do seu proceso agudo por mor da permeabilización da vía aérea e aumento da distensibilidade pulmonar, e, por outro lado, diminuír os síntomas respiratorios e músculo-esqueléticos que presenta polo seu EPOC, diminuíndo as limitacións na actividade e mellorando a súa calidade de vida. Para iso, a intervención dividiuse en dúas fases: a hospitalaria, que constou de tres sesións, onde se realizaron exercicios de control da respiración, técnicas para a eliminación das secrecións, aumento de volumes e capacidades e exercicio terapéutico para diminuír os efectos adversos da inmobilidade prolongada; e a ambulatoria, de quince sesións, onde se levou a cabo un programa de entrenamento en cicloergómetro e un circuíto por estacións, buscando o incremento da tolerancia ao exercicio por parte do paciente. Trala realización dunha valoración final e tendo en conta cada unha das sesión e a evolución levada a cabo polo paciente durante a mesma, atopáronse uns resultados que mostran melloras na maioría das variables avaliadas. Porén, considérase que se conseguiron a maior parte dos obxectivos plantexados, mellorando o patrón respiratorio, a permeabilización da vía aérea e a distensibilidade pulmonar; e conseguindo tamén unha diminución da disnea e fatiga dos MMII co incremento da tolerancia ao exercicio. Isto levou a unha diminución das limitacións na actividade coa mellora final da calidade de vida do paciente.
Keywords
Enfermedad pulmonar obstructiva crónica (EPOC)
Neumonía adquirida en la comunidad (NAC)
Rehabilitación pulmonar (RP) hospitalaria
Rehabilitación pulmonar (RP) ambulatoria
Chronic obstructive pulmonary disease (COPD)
Community-acquired pneumonia (CAP).
Hospital pulmonary rehabilitation
Ambulatory pulmonary rehabilitation
Rights
Os titulares dos dereitos de propiedade intelectual autorizan a visualización do contido deste traballo a través de Internet, así como a súa reproducción, gravación en soporte informático ou impresión para o seu uso privado e/ou con fins de estudo e de investigación. En nengún caso se permite o uso lucrativo deste documento. Estos dereitos afectan tanto ó resumo do traballo como o seu contido Los titulares de los derechos de propiedad intelectual autorizan la visualización del contenido de este trabajo a través de Internet, así como su repoducción, grabación en soporte informático o impresión para su uso privado o con fines de investigación. En ningún caso se permite el uso lucrativo de este documento. Estos derechos afectan tanto al resumen del trabajo como a su contenido