Entre medicina y literatura: el trastorno de la doble personalidad en El extraño caso del doctor Jekyll y del señor Hyde, de R. L. Stevenson, y «La secuela», de Alfredo Conde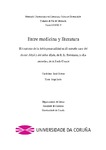 View/Open
Collections
Title
Entre medicina y literatura: el trastorno de la doble personalidad en El extraño caso del doctor Jekyll y del señor Hyde, de R. L. Stevenson, y «La secuela», de Alfredo Conde
Author(s)
Directors
Ledo, Jorge
Date
2019
Center/Dept./Entity
Universidade da Coruña. Facultade de Filoloxía
Description
Traballo fin de mestrado (UDC.FIL). Literatura, cultura e diversidade. Curso 2018/2019
Abstract
[Resumen] Tradicionalmente, literatura y medicina han mantenido una relación muy estrecha. Esta es especialmente importante durante la era victoriana, que con razón suele considerarse la cuna de la psiquiatría clínica moderna. El afán cientificista y el desarrollo técnico que tiene lugar durante este período, que conduce a la certeza de los poderes salvíficos del progreso, hace que las enfermedades mentales dejen de considerarse como fenómenos misteriosos u oscuros. Este trabajo se divide en dos partes bien diferenciadas. La primera, teórica, se ocupa por un lado del análisis de la concepción de enfermedad mental en la Inglaterra de finales del siglo XIX, haciendo hincapié en los avances científicos para su tratamiento. Por otro lado, se encarga de estudiar el concepto de «continuación» tal y como lo aborda Genette. Esta doble aproximación teórica cumple una función preparatoria para el análisis literario de dos obras. En primer lugar, El extraño caso del Dr. Jekyll y del señor Hyde (1886) de Robert Louis Stevenson, que se aborda en estas páginas atendiendo al protagonista y a su adecuación al trastorno de doble personalidad, enfermedad mental que empieza a ser estudiada e identificada en la época. A fin de reforzar esta aproximación, se analiza en segundo lugar una continuación literaria contemporánea de la obra de Stevenson: «La secuela» (2008), de Alfredo Conde, que profundiza en esta lectura psicológica de la obra y en el trastorno de la doble personalidad.
[Abstract] In the Western tradition, literature and medicine have always been closely related. The Victorian era is no exception (if anything, rather the opposite) and has been rightly considered the cradle of modern clinical psychology and psychiatry. The scientific zeal and technical development that takes place during this period, which leads to the certainty of the salvific powers of progress, means that mental illnesses are no longer considered as mysterious or obscure phenomena. This work is divided into two distinct parts. The first, theoretical, deals on the one hand with the analysis of the conception of mental illness in England at the end of the nineteenth century, with special emphasis on scientific advances for its treatment. On the other hand, it studies the concept of 'literary continuation' as analysed in structuralism, and, more particularly, in Genette's critical works. This twofold theoretical approach is a prolegomenon to the literary analysis of two works. (1.) The strange case of Dr Jekyll and Mr Hyde (1886) by Robert Louis Stevenson is studied paying attention to its protagonist and his links with double personality disorder, which was discovered and started to be studied as a mental illness during Stevenson's lifetime. (2.) My approach to the work is somehow reinforced by a contemporary Spanish continuation, Alfredo Conde's La secuela (2018), which is not only based on Stevenson's characters, but most important, stresses the importance of their psychology, an approach that I defend in these pages to be key to correctly analyse Stevenson's Strange case….
[Resumo] Tradicionalmente, a literatura e a medicina manteñen una relación moi próxima. Esta é de especial importancia na era victoriana, que con razón adoita considerarse o berce da psiquiatría clínica moderna. O degoiro cientificista e o avance técnico que ten lugar neste período e que conduce ó convencemento dos poderes redentores do progreso, fai que as enfermidades mentais deixen de se considerar fenómenos misteriosos ou escuros. Este traballo divídese en dúas partes ben diferenciadas. A primeira, teórica, ocúpase por unha banda da análise da concepción de enfermidade mental na Inglaterra de finais do século dezanove, facendo fincapé nos avances científicos para o seu tratamento. Doutra banda, encárgase de estudar o concepto de «continuación» tal e como o aborda o crítico Gérard Genette. Esta dupla aproximación teórica cumpre unha función propedéutica para a análise de dúas obras literarias. En primeiro lugar, O estraño caso do Dr. Jekyll e do señor Hyde (1886), de Robert Louis Stevenson, que se estuda nestas páxinas atendendo ao protagonista e á súa adecuación ao trastorno de dupla personalidade, enfermidade mental que principia a se identificar e investigar na época. A fin de reforzar esta aproximación, analízase en segundo lugar unha continuación literaria contemporánea da obra de Stevenson: «La secuela» (2008), de Alfredo Conde, que profunda nesta lectura psicolóxica da obra e no trastorno da dupla personalidade.
Keywords
Literatura
Medicina
Enfermedad mental
Era Victoriana
Doble personalidad
Continuación literaria
Stevenson, Robert Louis
Conde, Alfredo
Literature
Medicine
Mental illness
Victorian Age
Double personality
Literary continuation
Rights
Os titulares dos dereitos de propiedade intelectual autorizan a visualización do contido deste traballo a través de Internet, así como a súa reproducción, gravación en soporte informático ou impresión para o seu uso privado e/ou con fins de estudo e de investigación. En nengún caso se permite o uso lucrativo deste documento. Estos dereitos afectan tanto ó resumo do traballo como o seu contido Los titulares de los derechos de propiedad intelectual autorizan la visualización del contenido de este trabajo a través de Internet, así como su repoducción, grabación en soporte informático o impresión para su uso privado o con fines de investigación. En ningún caso se permite el uso lucrativo de este documento. Estos derechos afectan tanto al resumen del trabajo como a su contenido