Programa de estimulación multisensorial dende a terapia ocupacional dirixido ás persoas con demencia: repercusións sobre o coidador principal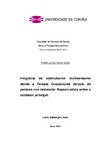 Collections
Title
Programa de estimulación multisensorial dende a terapia ocupacional dirixido ás persoas con demencia: repercusións sobre o coidador principal
Author(s)
Directors
Marante Moar, Pilar
Millán-Calenti, José Carlos

Date
2019
Center/Dept./Entity
Universidade da Coruña. Facultade de Ciencias da Saúde
Description
Traballo fin de grao (UDC.FCS). Terapia ocupacional. Curso 2018/2019
Abstract
[Resumo] Proponse a implementación dun proxecto basado na estimulación multisensorial (EMS) integrada no coidado as 24 horas. Os destinatarios serán todas aquelas persoas maiores de 65 anos do concello de Mesía que presenten demencia en estadío moderado/grave, e os seus coidadores principais. As estadísticas mostran que a demencia é unha das principais causas de discapacidade e de dependencia nas persoas maiores, asociándose esta patoloxía con altas taxas de morbilidade e mortalidade. A inexistencia de servizos especializados para estes colectivos desemboca nunha situación de institucionalización e repercute de maneira indirecta na calidade de vida tanto do coidador principal como da propia persoa maior. Metodoloxía: Realizouse un estudo prospectivo, descriptivo e cuasi-experimental.
[Resumen] Se propone implementar un proyecto basado en la estimulación multisensorial (EMS) integrada en el cuidado las 24 horas. Los beneficiarios serán todos aquellas personas mayores de 65 años del municipio de Mesía que presenten demencia en etapa moderada/grave, y su cuidador principal. Las estadísticas muestran que la demencia es una de las principales causas de discapacidad y dependencia en las personas mayores, asociándose esta patología con altas tasas de morbilidad y mortalidad. La falta de servicios especializados para estos colectivos conduce a una situación de institucionalización y repercute de manera indirecta en la calidad de vida tanto del cuidador principal como de la persona mayor. Metodología: Se realizó un estudio prospectivo, descriptivo y cuasi-expeimental.
[Abstract] It is proposed to implement a project based on multisensory stimulation (EMS) integrated into care 24 hours. The receivers will be all people over 65 of the municipality of Mesía who present dementia at moderate / severe stage, and their main caregiver. The statistics show that dementia is one of the main causes of disability and dependency in the elderly, associating with this pathology high morbidity and mortality rates. The lack of specialized services for these groups leads to a situation of institutionalization and has an indirect impact on the quality, both the caregiver and the elderly. Methodology: A prospective, descriptive and quasi-experimental study was carried out.
Keywords
EMS integrada no coidado as 24 horas
Demencia
Persoas maiores
Rural
Coidador principal
Personas mayores
Cuidador principal
MMSE integrated in 24-hour care
Dementia
Elderly people
Caregiver
Rights
Os titulares dos dereitos de propiedade intelectual autorizan a visualización do contido deste traballo a través de Internet, así como a súa reproducción, gravación en soporte informático ou impresión para o seu uso privado e/ou con fins de estudo e de investigación. En nengún caso se permite o uso lucrativo deste documento. Estos dereitos afectan tanto ó resumo do traballo como o seu contido Los titulares de los derechos de propiedad intelectual autorizan la visualización del contenido de este trabajo a través de Internet, así como su repoducción, grabación en soporte informático o impresión para su uso privado o con fines de investigación. En ningún caso se permite el uso lucrativo de este documento. Estos derechos afectan tanto al resumen del trabajo como a su contenido