Biodiversity of epiphytic macroalgae ("Chlorophyta", "Ochrophyta", and "Rhodophyta") on leaves of "Zostera marina" in the northwestern Iberian Peninsula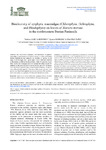 View/Open
Collections
Title
Biodiversity of epiphytic macroalgae ("Chlorophyta", "Ochrophyta", and "Rhodophyta") on leaves of "Zostera marina" in the northwestern Iberian Peninsula
Date
2019-02-28
Citation
García-Redondo V., Bárbara I. & Díaz-Tapia P. 2019. Biodiversity of epiphytic macroalgae (Chlorophyta, Ochrophyta, and Rhodophyta) on leaves of Zostera maritima in the northwestern Iberian Peninsula. Anales del Jardín Botánico de Madrid 76 (1): e078. https://doi.org/10.3989/ajbm.2502.
Abstract
[Abstract:] The composition, abundance, and distribution of epiphytic macroalgae living in meadows of Zostera marina L. in the northwestern Iberian Peninsula are here analyzed. We identified 63 species: 40 red algae, 16 brown algae, and 7 green algae. Most of them are classified as filamentous or filiform functional forms, while Pneophyllum fragile Kütz. was the only encrusting species. In general, the surface covered by epiphytes on the leaves of Zostera marina was low and a 43% of species were only found in juvenile stages. Regarding their frequency, 10 species were collected in the majority of the areas, while others were rare. Most species were found both epiphytic and in other substrata of the meadows, but 9 were exclusively epiphytic. We detected 9 introduced species.
[Resumen:] Se han analizado la composición, la abundancia y la distribución de macroalgas epifitas que viven en praderas de Zostera marina L. del noroeste de la península ibérica. Se han identificado 63 especies: 40 algas rojas, 16 pardas y 7 verdes. La mayoría pertenecen a los grupos funcionales filamentosos o filiformes, excepto Pneophyllum fragile Kütz., la única especie costrosa. En general, la cobertura de epifitos en las hojas de Zostera marina fue baja y un 43% de las especies solo se encontraron como estadios juveniles. En cuanto a su frecuencia, 10 de ellas se recolectaron en la mayoría de las áreas, mientras que el resto fueron más raras. La mayor parte de las especies se encontraron tanto epifitas como en otros substratos de las praderas, si bien 9 resultaron exclusivamente epifitas. Detectamos 9 especies introducidas.
Keywords
Asperococcus scaber
Biodiversity
Epiphytes
Galicia
Gayliella mazoyerae
Iberian Atlantic
Marine meadows
Rhodophysema georgei
Atlántico ibérico
Biodiversidad
Epifitos
Praderas marinas
Editor version
Rights
Atribución 4.0 España
ISSN
0211-1322