Efectos de la presencia del ibuprofeno en el agua de riego para el cultivo de lechuga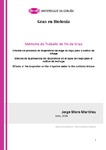 Title
Efectos de la presencia del ibuprofeno en el agua de riego para el cultivo de lechuga
Alternative Title(s)
Efectos da presenza de ibuprofeno na auga de rego para o cultivo da leituga
Effects of the ibuprofen on the irrigation water to the cultivate lettuce

Author(s)
Directors
Pomar, Federico
Date
2019
Center/Dept./Entity
Universidade da Coruña. Facultade de Ciencias
Description
Traballo fin de grao (UDC.CIE). Bioloxía. Curso 2018/2019
Abstract
[Resumen]: El ibuprofeno es uno de los fármacos más consumidos por la población y constituye actualmente uno de los contaminantes emergentes en las corrientes de agua. En este trabajo, se evalúa que efecto tiene, en las aguas de riego, la presencia de este compuesto sobre el cultivo de la lechuga. Para ello se estudió el efecto sobre la germinación de las semillas y sobre el metabolismo primario y secundario de plantas de lechuga.
[Resumo]: O ibuprofeno é un dos fármacos máis consumidos pola poboación e constitúe actualmente un dos contaminantes emerxentes nas correntes de auga. Neste traballo, avalíase o efecto que ten, nas augas de rego, a presenza deste composto sobre o cultivo de leituga. Por iso, se estudou o efecto da xerminación das sementes e sobre o metabolismo primario e secundario de plantas de leituga.
[Abstract]: Ibuprofen is one of the drugs most consumed by the population and is currently one of the emerging pollutants in water currents. This research evaluates the effect of this chemical compound on the lettuce crop in irrigation waters. Therefore, the effect on germination of the seeds and on the primary and secondary metabolism of lettuce plants was studied.
Keywords
Ibuprofeno
Lechuga
Fotosíntesis
Fenólicos
Pared celular
Rights
Os titulares dos dereitos de propiedade intelectual autorizan a visualización do contido deste traballo a través de Internet, así como a súa reproducción, gravación en soporte informático ou impresión para o seu uso privado e/ou con fins de estudo e de investigación. En nengún caso se permite o uso lucrativo deste documento. Estos dereitos afectan tanto ó resumo do traballo como o seu contido Los titulares de los derechos de propiedad intelectual autorizan la visualización del contenido de este trabajo a través de Internet, así como su repoducción, grabación en soporte informático o impresión para su uso privado o con fines de investigación. En ningún caso se permite el uso lucrativo de este documento. Estos derechos afectan tanto al resumen del trabajo como a su contenido