Habitat quality assessment of Atlantic wet heathlands in Serra do Xistral, NW Spain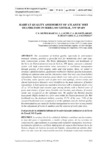 View/Open

Except where otherwise noted, this item's license is described as Atribución-NoComercial-SinDerivadas 3.0 España
Collections
Title
Habitat quality assessment of Atlantic wet heathlands in Serra do Xistral, NW Spain
Alternative Title(s)
Evaluación de la calidad de hábitats de brezales húmedos atlánticos en la Serra do Xistral, NO España
Author(s)
Date
2019
Citation
Muñoz-Barcia, C.V., Lagos, L., Blanco-Arias, C.A., Díaz-Varela, R., Fagúndez, J. 2019. Habitat quality assessment of Atlantic wet heathlands in Serra do Xistral, NW Spain. Cuadernos de Investigación Geográfica 45 (2), 533-549.
Abstract
[Abstract] The assessment of habitat quality, especially in semi-natural managed systems, provides a powerful tool for monitoring short and longterm conservation actions. The Erica mackayana Atlantic wet heathlands of the Serra do Xistral protected area in Galicia, NW Spain, represent a dynamic system with high conservation value associated to traditional management through grazing of free-ranging cattle and wild ponies. Here, we aimed to develop a spatially-explicit, quantitative method for Habitat Quality Assessment, defining an optimum state and the alternative states that may arise from habitat degradation. Vegetation structure, grass-shrub cover ratio, gorse cover, presence of bracken, exotic species such as pine trees and saplings, erosive events and altered hydrological dynamics were identified as the main indicators of habitat degradation. A heterogeneous vegetation structure with a dominant shrub cover of c.a. 0.5 m height and constant gaps among shrubs, with a limited cover of gorse and absence of pine trees, bramble and bracken, and absence of erosive events was recognized as the optimum state. We applied the Habitat Quality Assessment (HQA) method to a pilot area within the Xistral protected site. Wet heathland was the dominant habitat, covering 37.1% of the area. 7.0% of the assessed heathlands were recognized as in the optimum state for habitat quality. Recommendations are made for habitat management to revert low scores, mainly by the adjustment of livestock numbers and the removal of exotic pine trees.
[Resumen] La evaluación de la calidad de hábitats constituye una herramienta muy útil para el seguimiento, a medio y largo plazo, de las acciones de conservación, especialmente en sistemas semi-naturales manejados. Los brezales húmedos atlánticos con Erica mackayana del espacio Red Natura Serra do Xistral, situado en Galicia, noroeste de España, representan un sistema dinámico con alto valor de conservación asociado al manejo tradicional mediante ganado vacuno y caballos salvajes. En este artículo desarrollamos un método cuantitativo y espacialmente explícito para la evaluación de la calidad del hábitat en brezales húmedos. Para ello definimos un estado óptimo y los estados alternativos que pueden resultar de la degradación del hábitat. Los principales indicadores de degradación que identificamos fueron la estructura de la vegetación, la proporción de cobertura de herbáceas-arbustivas, la cobertura de tojo, la presencia de helechos (Pteridium aquilinum), especies exóticas como los pinos, eventos erosivos y la existencia de dinámicas hidrológicas alteradas. El estado óptimo se definió como una estructura de la vegetación heterogénea, con una cobertura de arbustivas dominante de entorno a 0,5 m de alto y pasillos constantes entre las matas, con cierta cobertura de tojo, ausencia de pinos, helechos, eventos erosivos y alteraciones hidrológicas. Aplicamos la Evaluación de la Calidad de Hábitats a un área piloto dentro del espacio Serra do Xistral. Los brezales húmedos son el hábitat dominante y cubren el 37,1% del área de estudio. Un 7,0% de los brezales evaluados puntuaron como en estado óptimo. Se incluyen una serie de recomendaciones de manejo que permitan incrementar los valores de calidad de hábitats, ajustando la presión de ganado o la retirada de especies exóticas como el pino.
Keywords
Habitat Quality Assessment
Atlantic wet heathlands
Semi-natural habitats
Vegetation
Conservation
Evaluación de la calidad del hábitat
Brezales húmedos atlánticos
Hábitats semi-naturales
Conservación
Editor version
Rights
Atribución-NoComercial-SinDerivadas 3.0 España
ISSN
Related items
Showing items related by title, author, creator and subject.
León Vallejo, Francisco Javier

(

Universidade da Coruña

,

1998

)

García Montes, José Ángel

(

Universidade da Coruña

,

1995

)

López Mihura, Xosé Manuel

(

Universidade da Coruña

,

1995

)