El mutualismo judicial: acción protectora de la Mutualidad General Judicial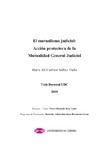 Title
El mutualismo judicial: acción protectora de la Mutualidad General Judicial
Author(s)
Directors
Ron Latas, Ricardo Pedro
Date
2019
Abstract
[Resumen] La subsistencia del mutualismo judicial como uno de los mecanismos de protección del RESSAJ en el marco de simplificación y homogeneización del sistema de Seguridad Social impone la necesidad de conocer la evolución histórica de su fundamento, el ámbito subjetivo y acción protectora y demás aspectos que lo conforman para alcanzar una perspectiva completa que permita conocer sus peculiaridades y problemática y, desde este entendimiento, proponer soluciones. Esta tarea se aborda en la presente Tesis, en la que partiendo de la visión que se obtiene tras conocer su evolución histórica, se examinan su ámbito subjetivo y, especialmente, el objetivo incluyendo un análisis de las instrucciones, circulares y órdenes que le afectan, así como el régimen tributario de las prestaciones con cargo a la MUGEJU. Con dicha labor se supera la dispersión normativa, la escasa o insuficiente doctrina sobre la materia y se aporta, al menos eso se pretende, un conocimiento global de este mecanismo de protección social, que incluye la relevante labor jurisprudencial tanto de la jurisdicción social como de la contenciosoadministrativa. La presente investigación facilita una perspectiva global del Mutualismo Judicial, así como el conocimiento de su problemática y sus posibles soluciones.
[Resumo] A subsistencia do mutualismo xudicial como un dos mecanismos de protección da RESSAX no marco da simplificación e homoxeneización do sistema da Seguridade Social impón a necesidade de coñecer a evolución histórica do seu alicerce, o alcance subxectivo e a acción protectora e outros aspectos que o conforman para alcanzar unha perspectiva completa que permita coñecer as súas peculiaridades e problemas e, a partir deste entendemento, propoñer solucións. Esta tarefa está tratada na presente Tese, na que a partir da visión que se obtén logo de coñecer a súa evolución histórica, analízase o seu alcance subxectivo e, especialmente, o obxectivo que inclúe unha análise das instrucións, circulares e ordes que o afectan, así como a réxime fiscal das prestacións da MUGEJU. Co devandita labor supérase a dispersión normativa, a escasa ou insuficiente doutrina sobre a materia e achégase, polo menos iso preténdese, un coñecemento global deste mecanismo de protección social, que inclúe o relevante labor xurisprudencial tanto da xurisdición social como da contencioso-administrativa. A presente investigación facilita unha perspectiva global do mutualismo xudicial, así como o coñecemento da súa problemática e as súas posibles solución.
[Abstract] The subsistence of the judicial mutualism as one of the protection mechanisms of the special regime of social security of the personnel at the service of the administration of justice in the framework of simplification and homogenization of the Social Security system imposes the need to know the historical evolution of its foundation, the subjective scope and protective action and other aspects that make it up to reach a complete perspective that allows to know its peculiarities and problems and, from this understanding, propose solutions. This task is addressed in the present Thesis, in which starting from the vision that is obtained after knowing its historical evolution, its subjective scope is examined and, especially, the objective including an analysis of the instructions, circulars and orders that affect it, as well as the tax regime of the benefits charged to the MUGEJU. With this work the normative dispersion is overcome, the scarce or insufficient doctrine on the matter and it is provided, at least that is intended, a global knowledge of this social protection mechanism, which includes the relevant jurisprudential work of both the social jurisdiction and the administrative litigation. The present investigation facilitates a global perspective of Judicial Mutualism, as well as the knowledge of its problematic and its possible solutions.
Keywords
Seguridad del trabajo-Derecho-España-Legislación
Mutualidades-Derecho-España
Jueces-Seguridad social
Description
Programa Oficial de Doutoramento en Dereito Administrativo Iberoamericano. 5013V01
Rights
Os titulares dos dereitos de propiedade intelectual autorizan a visualización do contido desta tese a través de Internet, así como a súa reproducción, gravación en soporte informático ou impresión para o seu uso privado e/ou con fins de estudo e de investigación. En nengún caso se permite o uso lucrativo deste documento. Estos dereitos afectan tanto ó resumo da tese como o seu contido Los titulares de los derechos de propiedad intelectual autorizan la visualización del contenido de esta tesis a través de Internet, así como su repoducción, grabación en soporte informático o impresión para su uso privado o con fines de investigación. En ningún caso se permite el uso lucrativo de este documento. Estos derechos afectan tanto al resumen de la tesis como a su contenido