A fault detection system for a geothermal heat exchanger sensor based on intelligent techniques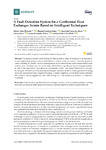 View/Open
Title
A fault detection system for a geothermal heat exchanger sensor based on intelligent techniques
Author(s)
Date
2019-06-18
Citation
Aláiz-Moretón, H.; Castejón-Limas, M.; Casteleiro-Roca, J.-L.; Jove, E.; Fernández Robles, L.; Calvo-Rolle, J.L. A Fault Detection System for a Geothermal Heat Exchanger Sensor Based on Intelligent Techniques. Sensors 2019, 19, 2740.
Abstract
[Abstract ]:This paper proposes a methodology for dealing with an issue of crucial practical importance in real engineering systems such as fault detection and recovery of a sensor. The main goal is to define a strategy to identify a malfunctioning sensor and to establish the correct measurement value in those cases. As study case, we use the data collected from a geothermal heat exchanger installed as part of the heat pump installation in a bioclimatic house. The sensor behaviour is modeled by using six different machine learning techniques: Random decision forests, gradient boosting, extremely randomized trees, adaptive boosting, k-nearest neighbors, and shallow neural networks. The achieved results suggest that this methodology is a very satisfactory solution for this kind of systems.
Keywords
Fault detection
Geothermal heat exchanger
Random decision forests
Gradient boosting
Extremely randomized trees
Adaptive boosting
K-nearest neighbors
Shallow neural networks
Detección de fallo
Intercambiador de calor geotérmico
Bosques de decisión aleatoria
Potenciación del gradiente
Árboles extremadamente aleatorios
K vecinos más cercanos
Redes neuronales poco profundas
Editor version
Rights
Atribución 3.0 España
Creative Commons Attribution (CC BY) license (http://creativecommons.org/licenses/by/4.0/).
ISSN
1424-8220