Comparativa de la viabilidad de un parque eólico marino en Cantabria considerando plataformas flotantes de acero y de hormigón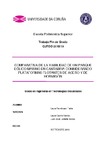 Collections
Title
Comparativa de la viabilidad de un parque eólico marino en Cantabria considerando plataformas flotantes de acero y de hormigón
Author(s)
Directors
Castro-Santos, Laura
Cartelle Barros, Juan José

Date
2019
Center/Dept./Entity
Universidade da Coruña. Escola Politécnica Superior
Description
Traballo fin de grao (UDC.EPS). Enxeñaría en tecnoloxías industriais. Curso 2018/2019
Abstract
[Resumen]: En el presente proyecto se llevará a cabo el estudio de viabilidad de instalación de un parque eólico marino en Cantabria, realizando una comparativa del uso de plataformas flotantes de acero y de hormigón. Primero, se realiza un análisis del contexto actual energético, centrándose básicamente en la energía eólica offshore. A continuación, se realiza un estudio de las posibles localizaciones del parque, se definen los aerogeneradores y plataformas que consideraremos, así como la cantidad de estos y su distribución. Se realiza un dimensionamiento eléctrico básico y un dimensionamiento de las líneas de amarre de las plataformas. Se definen las alternativas a analizar, y se elabora un presupuesto para cada una, determinando la inversión inicial necesaria. Finalmente, se realiza el análisis de viabilidad de todas las alternativas, calculando el Valor Actual Neto (VAN), la Tasa Interna de Retorno (TIR) y el período de recuperación. Se realiza un análisis de sensibilidad para determinar qué factor influye en mayor medida sobre el resultado final.
[Resume]: No presente proxecto levarase a cabo o estudo de viabilidade da instalación dun parque eólico mariño en Cantabria, realizando unha comparativa do uso de plataformas flotantes de aceiro e formigón. En primeiro lugar, realizase unha análise do contexto actual enerxético, centrándose básicamente na enerxía eólica offshore. A continuación, faise un estudo das posibles localizacións do parque, defínense os aeroxeradores e plataformas que imos considerar, así como a cantidade destes e a súa distribución. Faise un dimensionamento eléctrico básico e un dimensionamento das liñas de amarre das plataformas. Defínense as alternativas que imos a analizar, e elabórase un presuposto para cada unha, determinando o investimento inicial necesario. Finalmente, faise unha análise de viabilidade de todas as alternativas, calculando o Valor Actual Neto (VAN), a Taxa Interna de Retorno (TIR) e o período de recuperación (PR). Faise unha análise de sensibilidade para determinar que factor inflúe en maior medida sobre o resultado final.
[Abstract]: In this project, the feasibility study of the installation of a marine wind farm in Cantabria will be carried out, making a comparison of the use of floating steel and concrete platforms. First, an analysis of the current energy context is carried out, basically focusing on offshore wind power. Next, a study of the possible locations of the wind farm is carried out, the wind turbines and platforms that we will consider are defined, as well as the amount of these and their distribution. A basic electrical sizing and sizing of the mooring lines of the platforms is carried out. The alternatives to be analyzed are defined, and a budget is prepared for each one, determining the necessary initial investment. Finally, the feasibility analysis of all alternatives is performed, calculating the Net Present Value (NPV), the Internal Rate of Return (IRR) and the payback period. A sensitivity analysis is made to determine which factor most influences the final result.
Keywords
Energía eólica
Energias renovables
Centrales eólicas
Estructuras offshore
Aerogeneradores
Rights
Os titulares dos dereitos de propiedade intelectual autorizan a visualización do contido deste traballo a través de Internet, así como a súa reproducción, gravación en soporte informático ou impresión para o seu uso privado e/ou con fins de estudo e de investigación. En nengún caso se permite o uso lucrativo deste documento. Estos dereitos afectan tanto ó resumo do traballo como o seu contido Los titulares de los derechos de propiedad intelectual autorizan la visualización del contenido de este trabajo a través de Internet, así como su repoducción, grabación en soporte informático o impresión para su uso privado o con fines de investigación. En ningún caso se permite el uso lucrativo de este documento. Estos derechos afectan tanto al resumen del trabajo como a su contenido