Diseño de un Taller Multimarca para Reparación de Autobuses y Camiones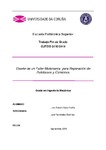 Collections
Title
Diseño de un Taller Multimarca para Reparación de Autobuses y Camiones
Author(s)
Directors
Fernández Martínez, José
Date
2019
Center/Dept./Entity
Universidade da Coruña. Escola Politécnica Superior
Description
Traballo fin de grao (UDC.EPS). Enxeñaría mecánica. Curso 2018/2019
Abstract
[Resumen] En este proyecto se realiza el diseño de un taller para la reparación de autobuses y camiones. Además del diseño de urbanización de la parcela y la distribución de la planta del edificio, se lleva a cabo el cálculo de la instalación eléctrica, alumbrado general y de emergencia, así como la instalación contraincendios. El proyecto constará de memoria, anexos, planos, pliego de condiciones y presupuesto definiendo lo proyectado, los términos legales, urbanísticos y de seguridad del mismo.
[Resumo] Neste proxecto realizase o deseño dun taller para a reparación de autocares e camións. Ademáis do deseño de urbanización da parcela e da distribución da planta do edificio, levase a cabo o cálculo da instalación eléctrica, alumado xeral e de emerxencia, así como a instalación contraincendios. O Proxecto consta de memoria, anexos, planos, pliego de condicións e presuposto definindo o proxectado, os términos legais, urbanísticos e de seguridade do mesmo.
[Abstract] In this proyect will be performed the design of a multi-brand buses and trucks repair shop. In addition to the urbanization design and the distribution of the built area; the electrical installation and the emergency and general illumination systems will be developed as well fire protection. The project consist of report, annexes, plans, set of conditions and budget defining the projected, legal, urban and security terms.
Keywords
Automóviles - Talleres
Construcciones industriales
Climatización - Aparatos y material
Incendios - Prevención
Fontanería - Instalaciones
Rights
Os titulares dos dereitos de propiedade intelectual autorizan a visualización do contido deste traballo a través de Internet, así como a súa reproducción, gravación en soporte informático ou impresión para o seu uso privado e/ou con fins de estudo e de investigación. En nengún caso se permite o uso lucrativo deste documento. Estos dereitos afectan tanto ó resumo do traballo como o seu contido Los titulares de los derechos de propiedad intelectual autorizan la visualización del contenido de este trabajo a través de Internet, así como su repoducción, grabación en soporte informático o impresión para su uso privado o con fines de investigación. En ningún caso se permite el uso lucrativo de este documento. Estos derechos afectan tanto al resumen del trabajo como a su contenido