Los nuevos vínculos relacionales: los jóvenes ante las no-monogamias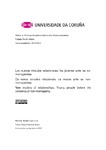 Title
Los nuevos vínculos relacionales: los jóvenes ante las no-monogamias
Alternative Title(s)
Os novos vínculos relacionais: os mozos ante as non-monogamias
New models of relationships: young people before the consensual non-monogamy

Author(s)
Directors
Martínez Buján, Raquel
Date
2019
Center/Dept./Entity
Universidade da Coruña. Facultade de Socioloxía
Description
Traballo fin de mestrado (UDC.SOC). Políticas sociais e intervención sociocomunitaria. Curso 2018/2019
Abstract
[Resumen] Este Trabajo Fin de Máster analiza formas afectivas sexuales alternativas a las establecidas por la monogamia heterosexual. Desde un trabajo cualitativo de 18 entrevistas en profundidad dirigidas a jóvenes que han experimentado intimidades no hegemónicas, puede entreverse cómo el modelo de relaciones monogámico es puesto en cuestión por este colectivo. Las narrativas incluidas ahondan en su conservadurismo social, en la desigual posición de hombres y mujeres en la intimidad afectiva y en la vivencia de la experiencia amorosa y sexual. A lo largo de esta investigación se explora, por tanto, las características de estos vínculos relacionales transgresores y los valores y elementos culturales que se establecen a partir de estas prácticas amorosas.
[Resumo] Este Traballo Fin de Mestrado analizar as formas afectivas sexuais alternativas ás que establece a monogamia. Dende un traballo cualitativo de 18 entrevistas en profundidade dirixidas a mozas e mozos experimentan intimidades non hexemónicas, pode entreverse como o modelo de intimidade monógamo é posto en cuestión. As narrativas incluidas afondan n seu conservadurismo social, na desigual posición de homes e molleres na intimidade afectiva e na vivencia da sua experiencia amorosa e sexual. Ao longo desta investigación explórase, polo tanto, as características destes vínculos relacionais transgresores e os valores e elementos culturais que se establecen a partir das prácticas amorosas.
[Abstract] This Research analyzes alternative sexual affective forms to those established by heterosexual monogamy. From a qualitative work of 18 in-depth interviews aimed at young people who have experienced non-hegemonic intimacies, it can be seen how the model of monogamous relationships is questioned by this group. The narratives included delve into their social conservatism, the unequal position of men and women in affective intimacy and in the experience of the love and sexual experience. The characteristics of these transgressive relational links, as well as the cultural values and elements that are established from these loving practices, are explored throughout this investigation.
Keywords
No-monogamia
Poliamor
Anarquismo relacional
Agamia
Relaciones abiertas
Feminismo
Vínculos relacionales
Non-monogamia
Relacións abertas
Vínculos relacionais
Consensual non-monogamy
Poliamory
Queer anarchism
Open relationships
Swinger
Feminism
Relational links
Rights
Atribución-NoComercial 3.0 España