¿Quiénes nos gobiernan?: una aproximación a la élite gubernamental española de la XII Legislatura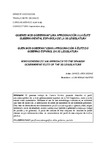 View/Open
Title
¿Quiénes nos gobiernan?: una aproximación a la élite gubernamental española de la XII Legislatura
Alternative Title(s)
Quen nos goberna?: unha aproximación á élite do goberno español da XII Lexislatura
Who gobern us?: an approach to the spanish government elite of the XII Legislature

Author(s)
Directors
Román Masedo, Laura
Date
2019
Center/Dept./Entity
Universidade da Coruña. Facultade de Socioloxía
Description
Traballo fin de grao (UDC.SOC). Socioloxía. Curso 2018/2019
Abstract
[Resumen] El presente trabajo de Ciencia Política pretende describir el perfil sociodemográfico de la élite gubernamental española de la XII Legislatura, tanto a nivel estatal como autonómico. Mediante el uso de una metodología cuantitativa, se elaborará una base de datos con la información de todos los miembros de los diferentes gobiernos. Esta base de datos abarca tres dimensiones: perfil sociodemográfico (género, edad, origen territorial y nivel de estudios), ámbito institucional (partido y gobierno) y liderazgo (cargo de partido y de gobierno). A partir del análisis de este conjunto de variables se podrá obtener mayor información sobre las características del perfil de este conjunto de la élite política.
[Resumo] O presente traballo de Ciencia Política pretende describir o perfil socio demográfico da elite do goberno español da XII Legislatura, tanto a nivel estatal como rexional. Mediante a utilización dunha metodoloxía cuantitativa, prepararase unha base de datos coa información de todos os membros dos diferentes gobernos. Esta base de datos abarca tres dimensións: perfil socio demográfico (xénero, idade, orixe territorial e nivel de educación), esfera institucional (partido e goberno) e liderado (oficina e partido). A partir da análise deste conxunto de variables será posible obter máis información sobre as características do perfil deste grupo de elites políticas.
[Abstract] The present work of Political Science aims to describe the socio demographic profile of the Spanish government elite of the XII Legislature, both at the state and regional levels. Through the use of a quantitative methodology, a database will be prepared with the information of all the members of the different governments. This database covers three dimensions: sociodemographic profile (gender, age, territorial origin and level of education), institutional sphere (party and government) and leadership (party and government office). From the analysis of this set of variables it will be possible to obtain more information about the characteristics of the profile of this group of the political elite.
Keywords
Perfil sociodemográfico
Élite
Gobierno
Partido
Goberno
Socio demographic profile
Elite
Government
Political party
Rights
Os titulares dos dereitos de propiedade intelectual autorizan a visualización do contido deste traballo a través de Internet, así como a súa reproducción, gravación en soporte informático ou impresión para o seu uso privado e/ou con fins de estudo e de investigación. En nengún caso se permite o uso lucrativo deste documento. Estos dereitos afectan tanto ó resumo do traballo como o seu contido Los titulares de los derechos de propiedad intelectual autorizan la visualización del contenido de este trabajo a través de Internet, así como su repoducción, grabación en soporte informático o impresión para su uso privado o con fines de investigación. En ningún caso se permite el uso lucrativo de este documento. Estos derechos afectan tanto al resumen del trabajo como a su contenido