Overweight in schoolchildren and association with physical activity and parental habits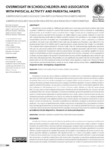 View/Open
Collections
Title
Overweight in schoolchildren and association with physical activity and parental habits
Alternative Title(s)
Sobrepeso em escolares e associação com a prática de atividade física e hábitos parentais
Sobrepeso en escolares y asociación con la práctica de actividad física y hábitos parentales

Date
2019-07
Abstract
[Abstract]: Excess weight in childhood and adolescence is an important health problem that tends to persist in adulthood. Among the causes of this increase there appears to be a consensus on emphasizing physical activity as an excellent strategy to achieve better weight control, and on considering some models of parental practices essential for the acquisition of healthy habits in young people.
[Resumo]: O excesso de peso na infância e adolescência constitui-se em um importante problema de saúde que tende a persistir na idade adulta. Entre as causas desse aumento parece existir consenso em destacar a prática de atividade física como uma excelente estratégia para conseguir melhor controle do peso e em considerar alguns modelos de práticas parentais fundamentais para a aquisição de hábitos saudáveis nos jovens
[Resumen]: El exceso de peso en la infancia y la adolescencia se constituye en un importante problema de salud que tiende a persistir en la edad adulta. Entre las causas de ese aumento parece existir consenso en destacar la práctica de actividad física como una excelente estrategia para conseguir mejor control del peso y en considerar algunos modelos de prácticas parentales fundamentales para la adquisición de hábitos saludables en los jóvenes.
Keywords
Obesity
Overweight
Physical activity
Healthy eating habit
Obesidade
Sobrepeso
Atividade física
Hábitos alimentares saudáveis
Obesidad
Actividad física
Hábitos alimenticios saludables
Editor version
Rights
Atribución-NoComercial 3.0 España
ISSN
1517-8692