Ensaio de resistencia inducida por extractos de Undaria pinnatifida e brasinólido en feixón fronte a un fungo patóxeno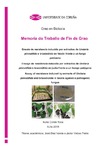 View/Open
Title
Ensaio de resistencia inducida por extractos de Undaria pinnatifida e brasinólido en feixón fronte a un fungo patóxeno
Alternative Title(s)
Ensayo de resistencia inducida por extractos de Undaria pinnatifida e brasinólido en judía frente a un hongo patógeno
Assay of resistance induced by extracts of Undaria pinnatifida and brassinolide in beans against a pathogenic fungus

Author(s)
Directors
Díaz Varela, José
Veloso Freire, Javier

Date
2019
Center/Dept./Entity
Universidade da Coruña. Facultade de Ciencias
Description
Traballo fin de grao (UDC.CIE). Bioloxía. Curso 2018/2019
Abstract
[Resumo]: Phaseolus vulgaris é unha planta de gran interese, porque se emprega para o consumo en numerosas partes do mundo. Na actualidade vese afectada por diversas enfermidades, unha delas é a causada polo patóxeno necrotrófico Botrytis cinerea. Neste traballo comprobamos se a resistencia da planta, P. vulgaris, pode ser inducida, tanto a nivel local como a nivel sistémico. Para a estimulación da defensa da planta usamos dous axentes indutores diferentes, extractos da alga Undaria pinnatifida e da hormona brasinólido. Os resultados obtidos mostraron que, ningún dos dous axentes indutores son capaces de inducir a resistencia a Botrytis en feixón.
[Resumen]: Phaseolus vulgaris es una planta de gran interés, porque se emplea para consumo en numerosas partes del mundo. Actualmente se ve afectada por diversas enfermedades, una de ellas es la causada por el patógeno necrotrófico Botrytis cinera. En este trabajo comprobamos si la resistencia de la planta, P. vulgaris, puede ser inducida, tanto a nivel local como a nivel sistémico. Para la estimulación de la defensa de la planta usamos dos agentes inductores diferentes, extractos del alga Undaria pinnatifida y la hormona brasinólido. Los resultados obtenidos mostraron que ninguno de los dos agentes inductores son capaces de inducir la resistencia a Botrytis en judía.
[Abstract]: Phaseolus vulgaris is plant of great interest, because it is used for human consumption in many parts of the world. Nowadays, it is affected for different diseases, one of them is caused by a necrotrophic pathogen, Botrytis cinerea. In this work we assayed if the resistance of the plant, P. vulgaris, can be induced both at local level and/or at systemic level. For the induction of the plant defense, we used two inducing agents, extracts 4 of the algae Undaria pinnatifida, and the hormone brassinolide. The obtained results show that neither of the two inducing agents were able to induce resistance against Botrytis in bean.
Keywords
Phaseolus vulgari
Botrytis cinerea
Undaria pinnatifida
Brasinólido
Resistencia inducida
Resistencia local
Resistencia sistémica
Rights
Os titulares dos dereitos de propiedade intelectual autorizan a visualización do contido deste traballo a través de Internet, así como a súa reproducción, gravación en soporte informático ou impresión para o seu uso privado e/ou con fins de estudo e de investigación. En nengún caso se permite o uso lucrativo deste documento. Estos dereitos afectan tanto ó resumo do traballo como o seu contido Los titulares de los derechos de propiedad intelectual autorizan la visualización del contenido de este trabajo a través de Internet, así como su repoducción, grabación en soporte informático o impresión para su uso privado o con fines de investigación. En ningún caso se permite el uso lucrativo de este documento. Estos derechos afectan tanto al resumen del trabajo como a su contenido