Colectividade rural e identidade urbana: o cambio na dimensión social da morte na Galiza contemporánea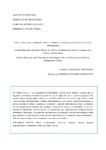 Title
Colectividade rural e identidade urbana: o cambio na dimensión social da morte na Galiza contemporánea
Alternative Title(s)
Colectividad rural e identidad urbana: el cambio en la dimensión social de la muerte en la Galicia contemporánea
Rural collectivism and Urban identity: the change in the social dimension of death in contemporary Galicia

Author(s)
Directors
Couceiro, Enrique
Date
2019
Center/Dept./Entity
Universidade da Coruña. Facultade de Socioloxía
Description
Traballo fin de grao (UDC.SOC). Socioloxía. Curso 2018/2019
Abstract
[Resumo] No último século, e coa chegada da modernidade, xorden novos rituais e crenzas que se engaden e substitúen ás tradicións arredor do que foi algún día morrer na Galiza agraria. Este estudo explora ata que punto cambiou este modelo tradicional, así como en que termos xorde o novo modelo contemporáneo e urbano: individualismo, redes online, a medicina moderna, as novas relacións de xénero, parentesco, vecindade e amizade substitúen ao antigo e complexo rito de separación do defunto da sociedade e á fusión da casa coa comunidade. Á súa vez, narrativas importadas doutros países ou producidas por multinacionais hollywoodienses substitúen e fusiónanse coa tradición oral autóctona. O resultado é unha fusión cultural e ritual que modifica a concepción da morte na súa dimensión social, variando consecuentemente o xeito de experimentar, vivir e compartir a traxedia en sociedade.
[Resumen] En el último siglo, y con la llegada de la modernidad, surgen nuevos rituales y creencias que se suman y substituyen a las tradiciones alrededor de lo que fue algún día morir en la Galicia agraria. Este estudio explora hasta qué punto ha cambiado este modelo tradicional, así como en que términos surge el nuevo modelo contemporáneo y urbano: individualismo, redes online, la medicina moderna, las nuevas relaciones de género, parentesco, vecindad y amistad substituyen al antiguo y complejo rito de separación del difunto de la sociedad y a la fusión de la casa con la comunidad. A su vez, narrativas importadas de otros países o producidas por multinacionales hollywoodienses reemplazan y se fusionan con la tradición oral autóctona. El resultado es una fusión cultural y ritual que modifica la concepción de la muerte en su dimensión social, variando consecuentemente la forma de experimentar, vivir, y compartir la tragedia en sociedad.
[Abstract] Over the last century and along with the arrival of modernity, new rituals and beliefs have arisen, adding and substituting the traditions surrounding what was once dying in agrarian Galicia. This study explores until which point has this traditional model changed, as well as in which terms does the new contemporary, urban model arise: individualism, online networks, modern medicine, new gender, kinship, neighbourhood and friendship relationships substitute the old and complex separation ritual of the deceased from the society and the fusion of the household with the community. At the same time, imported narratives from other countries or produced by multinational Hollywood enterprises replace and fuse with oral autochthonous tradition. The result is a cultural and ritual fusion that modifies the conception of death within its social dimension, consequently changing the way of experimenting, living and sharing tragedy within society.
Keywords
Morte
Modernidade
Tradición
Velatorio
Enterro
Funeral
Espiritualidade
Comunidade
Individualismo
Galiza
Muerte
Modernidad
Entierro
Espiritualidad
Comunidad
Galicia
Death
Modernity
Tradition
Visitation
Burial
Spirituality
Community
Individualism
Rights
Os titulares dos dereitos de propiedade intelectual autorizan a visualización do contido deste traballo a través de Internet, así como a súa reproducción, gravación en soporte informático ou impresión para o seu uso privado e/ou con fins de estudo e de investigación. En nengún caso se permite o uso lucrativo deste documento. Estos dereitos afectan tanto ó resumo do traballo como o seu contido Los titulares de los derechos de propiedad intelectual autorizan la visualización del contenido de este trabajo a través de Internet, así como su repoducción, grabación en soporte informático o impresión para su uso privado o con fines de investigación. En ningún caso se permite el uso lucrativo de este documento. Estos derechos afectan tanto al resumen del trabajo como a su contenido