La mascota como recurso de socialización en los contextos urbanos contemporáneos: un estudio sociocultural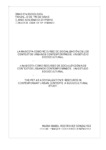 Except where otherwise noted, this item's license is described as Atribución-NoComercial-SinDerivadas 3.0 España
Title
La mascota como recurso de socialización en los contextos urbanos contemporáneos: un estudio sociocultural
Alternative Title(s)
A mascota como recurso de socialización nos contextos urbanos contemporáneos: un estudo sociocultural
The pet as a socialization´s resource in contemporary urban contexts: a sociocultural study

Author(s)
Directors
Couceiro, Enrique
Date
2018
Center/Dept./Entity
Universidade da Coruña. Facultade de Socioloxía
Description
Traballo fin de grao (UDC.SOC). Socioloxía. Curso 2017/2018
Abstract
[Resumen] El objetivo principal de este trabajo es el de describir la imagen y valoración social de la mascota en contextos urbanos contemporáneos, presentando en qué sentido ha experimentado una notable transformación desde una función instrumental hasta su actual figura antropomorfizada, convirtiéndose no sólo en actor social de la vida familiar, sino también de muchas de las relaciones sociales de sus dueños, en el contexto diario urbano contemporáneo. Asimismo, sondea en qué sentido puede considerarse al perro un "mediador" o "facilitador" de las relaciones sociales dentro de un modo de vida marcadamente individualista. Para ello, este trabajo emplea la metodología cualitativa, basada, por un lado, en entrevistas en profundidad dirigidas a diversos actores sociales en escenarios de interacción urbana; y por otro, en la revisión de una amplia bibliografía sobre esta cuestión. Se pretende, con ello, estimar la validez de todas las hipótesis planteadas.
[Resumo] O obxectivo principal deste traballo é describir a imaxe e o valor social da mascota nos contextos urbanos contemporáneos, presentando en que sentido experimentou unha notable transformación dunha función instrumental á súa actual figura antropomorfizada, converténdose non só nun actor social da vida familiar, senon tamén das moitas das relacións sociais dos seus donos, no contexto cotián urban contemporáneo. Tamén sondease en que sentido o can pode considerarse un "mediador" ou "facilitador" das relacións sociais dentro dunha maneira de vida marcadamente individualista. Para iso, este traballo utiliza unha metodoloxía cualitativa, baseada, por unha banda, en entrevistas en profundidade dirixidas a diferentes actores sociais en escenarios de interacción urbana; e doutra banda, na revisión dunha ampla bibliografía sobre esta cuestión. Preténdese, con isto, estimar a validez de todas as hipóteses consideradas.
[Abstract] The main objective of this work is to describe the image and the social value of the pet in contemporary urban contexts, presenting in what sense it has undergone a remarkable transformation from an instrumental function to its current anthropomorphized figure, becoming not only a social actor of family's life, but also many of the social relationships of their owners, in the contemporary everyday life urban context. It also probes in what sense the dog can be considered a "mediator" or "facilitator" of social relations within a markedly individualistic way of life. To this end, this work uses qualitative methodology, based, on one hand, on in-depth interviews directed to various social actors in urban interaction scenarios; and on the other hand, in the revision of a wide bibliography on this issue. It is pretended by this, to estimate the validity of all the hypotheses proposed.
Keywords
Mascota
Antropomorfización
Socialización
Contexto urbano
Cotidianidad
Vida cotiá
Pet
Anthropomorphization
Socialization
Urban context
Everyday life
Rights
Atribución-NoComercial-SinDerivadas 3.0 España