La funcionalidad social de las artes plásticas: estudio sociológico del campo artístico en la ciudad de A Coruña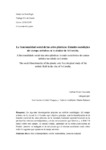 Except where otherwise noted, this item's license is described as Atribución-NoComercial-SinDerivadas 3.0 España
Title
La funcionalidad social de las artes plásticas: estudio sociológico del campo artístico en la ciudad de A Coruña
Alternative Title(s)
A funcionalidade social das artes plásticas: estudo sociolóxico do campo artístico na cidade da Coruña
The social functionality of the plastic arts: sociological study of the artistic field in the city of A Coruña

Author(s)
Directors
Cortés Vázquez, José Antonio
Martín Palmero, Federico

Date
2019
Center/Dept./Entity
Universidade da Coruña. Facultade de Socioloxía
Description
Traballo fin de grao (UDC.SOC). Socioloxía. Curso 2018/2019
Abstract
[Resumen] La siguiente investigación propone un análisis sociológico del campo artístico de la ciudad de A Coruña cuyo objetivo principal será la identificación de la función social de las artes plásticas en la sociedad, haciendo especial hincapié en la producción artística contemporánea y en las consecuencias que Internet y la Web 2.0 tienen sobre este campo. Al mismo tiempo, partiendo de la teoría posmoderna de Fredric Jameson se indagará en la influencia que el sistema económico tiene sobre todos los agentes que operan en el campo artístico.
[Resumo] A seguinte investigación propón unha análise sociolóxica do campo artístico da cidade da Coruña cuxo obxectivo principal será a identificación da función social das artes plásticas na sociedade, facendo especial fincapé na produción artística contemporánea e nas consecuencias que Internet e a Web 2.0 teñen sobre este campo. Ao mesmo tempo, partindo da teoría posmoderna de Fredric Jameson indagarase na influencia que o sistema económico ten sobre todos os axentes que operan no campo artístico.
[Abstract] The following investigation proposes a sociological analysis of the artistic field of the city of A Coruña whose main aim will be the identification of the social function of the plastic arts in the society, doing special upsetting in the contemporary artistic production and in the consequences that Internet and the Web 2.0 have on this field. At the same time, based on the Fredric Jameson´s posmodern theory it will investigate the influence that the economic system has on all the agents that operate in the artistic field.
Keywords
Arte contemporáneo
Teoría posmoderna
Consumo cultural
Contemporary art
Postmodern theory
Cultural consumption
Rights
Atribución-NoComercial-SinDerivadas 3.0 España