Análisis de la controversia de la píldora anticonceptiva: estudio de los posicionamientos de las usuarias españolas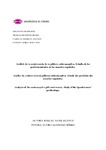 Title
Análisis de la controversia de la píldora anticonceptiva: estudio de los posicionamientos de las usuarias españolas
Alternative Title(s)
Análise da controversia da píldora anticonceptiva: estudo das posicións das usuarias españolas
Analysis of the contraceptive pill controversy: study of the Spanish users' positionings

Author(s)
Directors
Couceiro, Enrique
Date
2019
Center/Dept./Entity
Universidade da Coruña. Facultade de Socioloxía
Description
Traballo fin de grao (UDC.SOC). Socioloxía. Curso 2018/2019
Abstract
[Resumen] La píldora anticonceptiva es el segundo método de anticoncepción más utilizado en España. Más allá del debate sobre su eficacia, este método es cuestionado, entre otros motivos, por sus efectos secundarios o la inexistencia de un equivalente anticonceptivo hormonal masculino. Partiendo del enfoque teórico-metodológico del Actor-Red, rastrearé la controversia social generada en torno a la píldora, delimitando los puntos calientes del debate hacia su consumo. Focalizaré el análisis en el posicionamiento de las usuarias de la píldora menores de 30 años y en la relación establecida entre estas y los especialistas de la salud. Emplearé distintas técnicas de investigación: la observación participante, el análisis documental y las entrevistas en profundidad a expertos en la materia y a usuarias y exusuarias de la píldora.
[Resumo] A píldora anticonceptiva é o segundo método anticonceptivo máis empregado en España. Máis aló do debate sobre a súa eficacia, este método é cuestionado, entre outras razóns, polos seus efectos secundarios ou a inexistencia dun equivalente anticonceptivo hormonal masculino. Partindo do enfoque teórico-metodolóxico do Actor-Red e a Cartografía da Controversia, rastrearei a controversia social xerada en torno á píldora, delimitando os puntos quentes do debate sobre o seu consumo. Focalizarei o estudo nas posicións das usuarias da píldora menores de 30 anos e na relación establecida entre estas e os especialistas da saúde. Emplearei distintas técnicas de investigación: a observación participante, a análise documental e as entrevistas en profundidade a expertos na materia e a usuarias e exusuarias da píldora.
[Abstract] The contraceptive pill is the second most used contraceptive method in Spain. Beyond the debate on its efficacy, this method is questioned, among other several reasons, by its side effects or the lack of an equivalent male hormonal contraceptive. Starting from the theoretical-methodological approach of the Actor-Network and the Cartography of Controversy. I will outline the social debate generated around the pill, delimiting the most hot sports of the debate about its consumption. I will focus the study on the position of the users of the pill under 30 years of age and on the relationship established between them and the health specialists. I will use different research techniques: participant observation, documentary analysis and in-depth interviews with experts in the field and users and ex-users of the pill.
Keywords
Píldora anticonceptiva
Método anticonceptivo hormonal
Cartografía de la controversia
Actor-Red
Cartografía da controversia
Contraceptive pill
Hormonal contraceptive method
Cartography of the controversy
Actor-Network
Rights
Os titulares dos dereitos de propiedade intelectual autorizan a visualización do contido deste traballo a través de Internet, así como a súa reproducción, gravación en soporte informático ou impresión para o seu uso privado e/ou con fins de estudo e de investigación. En nengún caso se permite o uso lucrativo deste documento. Estos dereitos afectan tanto ó resumo do traballo como o seu contido Los titulares de los derechos de propiedad intelectual autorizan la visualización del contenido de este trabajo a través de Internet, así como su repoducción, grabación en soporte informático o impresión para su uso privado o con fines de investigación. En ningún caso se permite el uso lucrativo de este documento. Estos derechos afectan tanto al resumen del trabajo como a su contenido