Rehabilitación de vivienda tradicional para turismo rural en Lugar do Portolamas s/n, Anafreita (Friol)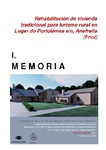 View/Open
Collections
Title
Rehabilitación de vivienda tradicional para turismo rural en Lugar do Portolamas s/n, Anafreita (Friol)
Author(s)
Directors
Iglesias Maceiras, Álvaro J.
Date
2019
Center/Dept./Entity
Universidade da Coruña. Escola Universitaria de Arquitectura Técnica
Description
Traballo fin de grao (UDC.EUAT). Arquitectura técnica. Curso 2018/2019
Abstract
[Resumen] El presente Proyecto de Rehabilitación de vivienda tradicional gallega para turismo rural en Lugar do Portolamas s/n, Anafreita (Friol) se redacta con el objetivo de Proyecto Fin de Grado para la titulación del Grado de Arquitectura Técnica que se imparte en la Escuela Universitaria de Arquitectura Técnica de A Coruña, bajo la dirección del profesor Don Álvaro J. Iglesias Maceiras, perteneciente al Departamento de Construcciones y Estructuras Arquitectónicas, Civiles y Aeronáuticas. En dicho proyecto se desarrolla la rehabilitación de un grupo de edificaciones formado por una vivienda unifamiliar y sus anexos en el Lugar do Portolamas s/n, Anafreita, Friol (Lugo); para su posterior uso como Casa de Turismo Rural, adaptando las necesidades de este tipo de alojamientos con el cumplimiento de la correspondiente normativa. Para la realización de la rehabilitación se opta por mantener lo máximo posible el aspecto exterior de las edificaciones existentes, con la finalidad de mantener el carácter tradicional de las edificaciones. En cuanto al interior, se ejecutará una nueva estructura de madera y puntualmente de acero para el forjado de planta de madera. La estructura de cubierta en todas las edificaciones se realizará de madera mediante pares atirantados a excepción de en el garaje que se realiza con cerchas. Se ejecutarán de nuevo la totalidad de las instalaciones.
[Abstract] Under direction of Professor Mr. Álvaro J. Iglesias Maceiras, member of the Constructions and Architectural, Civil and Aeronautical Structures Department, the project Rehabilitation of traditional Galician housing for rural tourism in Lugar do Portolamas s / n, Anafreita (Friol) has been written with the aim of passing the Final Degree Project subject of Quantity Suveryor degree, which is taught in the School of Quantity Surveyors of A Coruña. The rehabilitation of a group of buildings, among which there are a detached house and its annexes, is placed in the Place of Portolamas s / n, Anafreita, Friol (Lugo). These activities have the purpose of transforming those buildings into a Rural Tourism Housing Complex, adapting the needs of this type of accommodation with compliance with the corresponding regulations. The main goal conducting the rehabilitation has been to preserve, as much as possible, the façades and the external environment of the existing buildings, in order to maintain the traditional character of the constructions. Regarding the inner inside, a new structure will be built from wood as a whole, except for the floor slab, which will be built on steel. The roof structure in all buildings will be made of wood by cable-stayed pairs except for the garage, which will be made with trusses. All the installations will be replaced.
Keywords
Rehabilitación
Turismo rural
Vivienda tradicional
Vivienda principal
Apartamento
Rehabilitación arquitectónica
Rehabilitation
Rural tourism
Traditional housin
Main house
Apartment
Rights
Os titulares dos dereitos de propiedade intelectual autorizan a visualización do contido deste traballo a través de Internet, así como a súa reproducción, gravación en soporte informático ou impresión para o seu uso privado e/ou con fins de estudo e de investigación. En nengún caso se permite o uso lucrativo deste documento. Estos dereitos afectan tanto ó resumo do traballo como o seu contido Los titulares de los derechos de propiedad intelectual autorizan la visualización del contenido de este trabajo a través de Internet, así como su repoducción, grabación en soporte informático o impresión para su uso privado o con fines de investigación. En ningún caso se permite el uso lucrativo de este documento. Estos derechos afectan tanto al resumen del trabajo como a su contenido