A new species of "Ampharete" (Annelida: Ampharetidae) from the West Shetland shelf (NE Atlantic Ocean), with two updated keys to the species of the genus in North Atlantic waters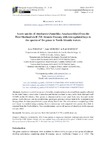 Title
A new species of "Ampharete" (Annelida: Ampharetidae) from the West Shetland shelf (NE Atlantic Ocean), with two updated keys to the species of the genus in North Atlantic waters
Date
2019-06-13
Citation
Parapar J., Moreira J. & Barnich R. 2019. A new species of "Ampharete" (Annelida: Ampharetidae) from the West Shetland shelf (NE Atlantic Ocean), with two updated keys to the species of the genus in North Atlantic waters. European Journal of Taxonomy 531: 1–16.
Abstract
[Abstract:] Ampharete oculicirrata sp. nov. (Annelida: Ampharetidae) is described from samples collected by the Joint Nature Conservation Committee and Marine Scotland Science, in the West Shetland Shelf NCMPA in the NE Atlantic. This species is characterised by a very small body size, thin and slender paleae, twelve thoracic and eleven abdominal uncinigers, presence of eyes both in the prostomium and the pygidium, the latter provided with a pair of long lateral cirri. The external micro-morphology of the new taxon was studied using scanning electron microscopy and compared with species described or reported from the North Atlantic. Two complementary keys to all species of Ampharete in the area are also provided.
Keywords
Taxonomy
New species
West Shetland shelf
SEM
Identification key
Polychaeta
Editor version
Rights
Atribución 4.0 España
EJT is a free open access journal licensed under the Creative Commons Attribution 4.0 License. Authors who publish with this journal agree to the following conditions: Authors retain copyright and grant the journal right of first publication with the work simultaneously licensed under a Creative Commons Attribution License that allows others to share the work with an acknowledgement of the work's authorship and initial publication in this journal. Authors are able to enter into separate, additional contractual arrangements for the non-exclusive distribution of the journal's published version of the work (e.g. post it to an institutional repository or publish it in a book), with an acknowledgement of its initial publication in this journal. Authors are not permitted to post their submitted work online (e.g. in institutional repositories or on personal websites) prior to or during the submission process, as it may lead to nomenclatural problems arising.
ISSN
2118-9773