La transformación industrial y laboral del Bierzo y Laciana, a través de la compañía carbonera MSP; 1954-1992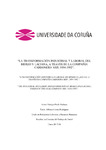 Collections
Title
La transformación industrial y laboral del Bierzo y Laciana, a través de la compañía carbonera MSP; 1954-1992
Alternative Title(s)
A transformación industrial e laboral do Bierzo e Laciana, a través da compañía carboeira MSP; 1954-1992
The industrial and labor transformation of Bierzo and Laciana, through the coal company MSP; 1954-1992

Author(s)
Directors
Gomis-Rodríguez, Alfonso
Date
2018
Center/Dept./Entity
Universidade da Coruña. Facultade de Ciencias do Traballo
Description
Traballo fin de grao (UDC.FCT). Relacións laborais e recursos humanos. Curso 2017/2018
Abstract
[Resumen] El siguiente texto aborda la transformación industrial y laboral de las comarcas del Bierzo y Laciana, a través de la influencia que en las mismas tuvo la creación de la compañía carbonera Minero Siderúrgica de Ponferrada o MSP, centrándose en el período 1954 - 1992. Se hará también hincapié en el marco laboral español, cubriendo a grandes rasgos, los cambios laborales y legislativos que se fueron sucediendo entre desde comienzos del siglo XX hasta la llegada de la Constitución Española, en 1978. Por último, serán objeto de estudio, las condiciones de trabajo y las Relaciones Laborales en ambas comarcas durante el período señalado; donde serán de interés aspectos como la carencia de suministros básicos en el hogar y en el trabajo, los salarios, el trabajo femenino, el paternalismo y la colonia industrial de la MSP, las ayudas al estudio, la seguridad y la higiene, el movimiento obrero, entre otros.
[Resumo] O seguinte texto aborda a transformación industrial e laboral das comarcas do Bierzo e Laciana, a través da influencia que nas mesmas tivo a creación da compañía carboeira Mineiro Siderúrxica de Ponferrada ou MSP, incidindo no período 1954 - 1992. Farase tamén fincapé no marco laboral español, cubrindo a grandes liñas, os cambios laborais e lexislativos que se foron sucedendo entre 1900 e 1978. Por último, serán obxecto de estudo, as condicións de traballo e as Relacións Laborais en ambas comarcas durante o período sinalado; onde serán de interese aspectos como a carencia de subministracións básicas no fogar e no traballo, os salarios, o traballo feminino, o paternalismo e a colonia industrial da MSP, as axudas ao estudo, a seguridade e a hixiene, o movemento obreiro, entre outros.
[Abstract] The following text shown the industrial and labour transformation of Bierzo and Laciana districts, through the influence that the creation and activity of the coal company Minero Siderúrgica of Ponferrada or MSP had on them, affecting the period 1954 - 1992. It will also emphasize the Spanish labour framework, covering, in broad strokes, the labour and legislative changes that took place between 1900 and 1978. Finally, the working conditions and the Labour Relations in both regions will be studied; where aspects such as the lack of basic supplies at home and at work, wages, women's work, paternalism and the industrial colony of the MSP, study aids, safety and hygiene, the workers movement will be of interest, among others.
Keywords
Sindicatos
Central térmica
Paternalismo
Dictadura
El Bierzo
Laciana
Minero Siderúrgica de Ponferrada
Rights
Os titulares dos dereitos de propiedade intelectual autorizan a visualización do contido deste traballo a través de Internet, así como a súa reproducción, gravación en soporte informático ou impresión para o seu uso privado e/ou con fins de estudo e de investigación. En nengún caso se permite o uso lucrativo deste documento. Estos dereitos afectan tanto ó resumo do traballo como o seu contido Los titulares de los derechos de propiedad intelectual autorizan la visualización del contenido de este trabajo a través de Internet, así como su repoducción, grabación en soporte informático o impresión para su uso privado o con fines de investigación. En ningún caso se permite el uso lucrativo de este documento. Estos derechos afectan tanto al resumen del trabajo como a su contenido