El papel de las personas mayores en una sociedad en cambio: un nuevo enfoque ante un cambio de paradigma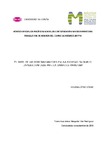 View/Open
Title
El papel de las personas mayores en una sociedad en cambio: un nuevo enfoque ante un cambio de paradigma
Author(s)
Directors
Vilar Rodríguez, Margarita
Date
2018
Center/Dept./Entity
Universidade da Coruña. Facultade de Socioloxía
Description
Traballo fin de mestrado (UDC.SOC). Políticas sociais e intervención sociocomunitaria. Curso 2017/2018
Abstract
[Resumen] El peso de las personas mayores en la sociedad española ha ido en aumento en las últimas décadas. En consecuencia, el comienzo del siglo XXI se está caracterizando no solo por el envejecimiento sino por el sobreenvejecimiento de la población. Esta tendencia ha ido acompañada de un paradigma. Las personas mayores han tenido preasignado tradicionalmente un papel pasivo por el sistema capitalista basado en su utilidad productiva; esto es, se identifican con una población económicamente inactiva y dependiente que percibe una pensión con motivo de su actividad laboral anterior. Sin embargo, lejos de este cliché, la creciente precariedad laboral y el elevado desempleo de la población más joven ha transformado la estructura socioeconómica derivada de la primera revolución industrial. El índice de exclusión social de la población mayor se ha reducido relativamente frente al de la población más joven. Partiendo de esta situación, este trabajo analiza la contribución positiva de las personas mayores desde un punto de vista socioeconómico y pone en evidencia la necesidad de replantear el papel de los y las mayores en una sociedad en cambio.
[Resumo] O peso das persoas maiores na sociedade española foi en aumento nas últimas décadas. En consecuencia, o comezo do século XXI estase a caracterizar non só polo envellecemento senón polo sobreenvejecimiento da poboación. Esta tendencia foi acompañada dun paradigma. As persoas maiores tiveron preasignado tradicionalmente un papel pasivo polo sistema capitalista baseado nunha utilidade produtiva; isto é, identifícanse cunha poboación economicamente inactiva e dependente que percibe unha pensión con motivo da súa actividade laboral anterior. Con todo, lonxe deste cliché, a crecente precariedade laboral e o elevado desemprego da poboación máis nova transformou a estrutura socioeconómica derivada da primeira revolución industrial. O índice de exclusión social da poboación maior reduciuse relativamente fronte ao da poboación máis nova. Partindo desta situación, este traballo analiza a contribución positiva das persoas maiores desde un punto de vista socioeconómico e pon en evidencia a necesidade de reformular o papel dos e das maiores nunha sociedade en cambio.
[Abstract] The weight of older people in Spanish society has been increasing in recent decades. Consequently, the beginning of the 21st century is being characterized not only by aging but by the over-aging of the population. This trend has been accompanied by a paradigm. Older people have traditionally pre-assigned a passive role for the capitalist system based on its productive utility; that is, they identify themselves with an economically inactive and dependent population that receives a pension due to their previous work activity. However, far from this cliché, the increasing job insecurity and high unemployment of the younger population has transformed the socioeconomic structure derived from the first industrial revolution. The index of social exclusion of the older population has been reduced relatively compared to that of the younger population. Based on this situation, this paper analyzes the positive contribution of older people from a socioeconomic point of view and highlights the need to rethink the role of older people in a changing society.
Keywords
Envejecimiento
Personas mayores
Cambio de paradigma
Vejez en positivo
Sobreenvejecimiento
Exclusión social
Envellecemento
Persoas maiores
Vellez en positivo
Sobreenvellecemento
Aging
Elderly people
Paradigm shift
Old age in positive
Over-aging
Social exclusion
Rights
Atribución-NoComercial 3.0 España