SAD = Servicio de limpieza en el hogar : ¿es el servicio de ayuda en el hogar un servicio de limpieza encubierto?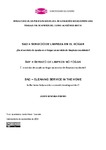 Title
SAD = Servicio de limpieza en el hogar : ¿es el servicio de ayuda en el hogar un servicio de limpieza encubierto?
Alternative Title(s)
SAF = Servizo de limpeza no fogar: é o servizo de axuda no fogar un servizo de limpeza encuberto?
SAD = Cleaning service in the home: Is the home help service a covert cleaning service?

Author(s)
Directors
Pérez-Caramés, Antía
Date
2018
Center/Dept./Entity
Universidade da Coruña. Facultade de Socioloxía
Description
Traballo fin de mestrado (UDC.SOC). Políticas sociais e intervención sociocomunitaria. Curso 2017/2018
Abstract
[Resumen] La presente investigación se desarrolla en el marco del sistema para la atención de la dependencia, más concretamente, centrada en las características de la prestación del servicio de ayuda a domicilio, en los municipios de Arbo y Ribdaumia, provincia de Pontevedra. El uso de una metodología mixta ha permitido aunar las diferentes cualidades de las técnicas cuantitativas de recogida de datos y la técnica cualitativa de la entrevista, aportando unas perspectivas innovadoras en el objeto de estudio. Gracias a ello, se ha conseguido analizar el funcionamiento del servicio en estos municipios y su papel fundamental en la organización social de los cuidados de las personas en situación de dependencia. Este servicio aporta unos cuidados imprescindibles a las personas que no serían posibles si no existiese, convirtiendo en efectivo el derecho a la protección del riesgo social de la dependencia.
[Resumo] A presente investigación desenvólvese no marco do sistema para a atención da dependencia, máis concretamente, centrada nas características da prestación do servizo de axuda no fogar, nos concellos de Arbo e Ribdaumia, provincia de Pontevedra. O uso dunha metodoloxía mixta permitiu combinar as distintas calidades das técnicas cuantitativas de recollida de datos e da técnica cualitativa da entrevista, proporcionando perspectivas innovadoras no obxecto de estudo. Grazas a isto, foi posible analizar o funcionamento do servizo nestes municipios e o seu papel fundamental na organización social do coidado das persoas en situacións de dependencia. Este servizo proporciona unha atención esencial ás persoas que non sería posible se non existísen, facendo efectivo o dereito á protección do risco social de dependencia.
[Abstract] The present investigation is developed in the framework of the system for the attention of the dependence, more specifically, centered on the characteristics of the service provision of home help, in the municipalities of Arbo and Ribdaumia, province of Pontevedra. The use of a mixed methodology has allowed combining the different qualities of quantitative data collection techniques and the qualitative technique of the interview, providing innovative perspectives in the object of study. Thanks to this, it has been possible to analyze the functioning of the service in these municipalities and its fundamental role in the social organization of the care of people in situations of dependency. This service provides essential care to people who would not be possible if it did not exist, making effective the right to protection of the social risk of dependence.
Keywords
Dependencia
Servicio de ayuda en el domicilio
SAAD
SAD
Limpieza
Servizo de axuda no fogar
Limpeza
Dependency
Help service at home
Cleaning
Rights
Atribución 3.0 España