NCBO Ontology Recommender 2.0: an enhanced approach for biomedical ontology recommendation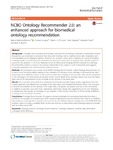 Title
NCBO Ontology Recommender 2.0: an enhanced approach for biomedical ontology recommendation
Author(s)
Date
2017-06-07
Citation
Martínez-Romero M, Jonquet C, O'Connor MJ, et al. NCBO Ontology Recommender 2.0: an enhanced approach for biomedical ontology recommendation. J Biomed Semantics. 2017; 8: 21
Abstract
[Abstract] Background. Ontologies and controlled terminologies have become increasingly important in biomedical research. Researchers use ontologies to annotate their data with ontology terms, enabling better data integration and interoperability across disparate datasets. However, the number, variety and complexity of current biomedical ontologies make it cumbersome for researchers to determine which ones to reuse for their specific needs. To overcome this problem, in 2010 the National Center for Biomedical Ontology (NCBO) released the Ontology Recommender, which is a service that receives a biomedical text corpus or a list of keywords and suggests ontologies appropriate for referencing the indicated terms. Methods. We developed a new version of the NCBO Ontology Recommender. Called Ontology Recommender 2.0, it uses a novel recommendation approach that evaluates the relevance of an ontology to biomedical text data according to four different criteria: (1) the extent to which the ontology covers the input data; (2) the acceptance of the ontology in the biomedical community; (3) the level of detail of the ontology classes that cover the input data; and (4) the specialization of the ontology to the domain of the input data. Results. Our evaluation shows that the enhanced recommender provides higher quality suggestions than the original approach, providing better coverage of the input data, more detailed information about their concepts, increased specialization for the domain of the input data, and greater acceptance and use in the community. In addition, it provides users with more explanatory information, along with suggestions of not only individual ontologies but also groups of ontologies to use together. It also can be customized to fit the needs of different ontology recommendation scenarios. Conclusions. Ontology Recommender 2.0 suggests relevant ontologies for annotating biomedical text data. It combines the strengths of its predecessor with a range of adjustments and new features that improve its reliability and usefulness. Ontology Recommender 2.0 recommends over 500 biomedical ontologies from the NCBO BioPortal platform, where it is openly available (both via the user interface at http://bioportal.bioontology.org/recommender, and via a Web service API).
Keywords
Ontology selection
Ontology recommendation
Ontology evaluation
Semantic web
Biomedical ontologies
NCBO BioPortal
Editor version
Rights
Atribución 3.0 España
ISSN
2041-1480
Related items
Showing items related by title, author, creator and subject.
Martínez-Romero, Marcos

;

Vázquez-Naya, José

;

Pereira-Loureiro, Javier

;

Pazos, A.

(

Elsevier Ireland Ltd

,

2014-04

)

In biomedical informatics, ontologies are considered a key technology for annotating, retrieving and sharing the huge volume of publicly available data. Due to the increasing amount, complexity and variety of existing ...

Pérez Herranz, Fernando Miguel

(

Universidade da Coruña

,

2006

)

[Resumen] El artículo presenta la Ontología implícita de Baltasar Gracián, espléndida en lo que concierne a las relaciones intersubjetivas, pero que, a su vez, bloquea la aceptación de la física atomista y mecanicista que ...

Martínez-Romero, Marcos

;

Vázquez-Naya, José

;

Pereira-Loureiro, Javier

;

Pereira, Miguel

;

Pazos, A.

;

Baños, Gerardo

(

IOS Press

,

2013-04-27

)

[Abstract] When a patient enters an intensive care unit (ICU), either after surgery or due to a serious clinical condition, his vital signs are continually changing, forcing the medical experts to make rapid and complex ...