A conserva: condicións sociolaborais e construción de identidade dos traballadores das industrias conserveiras na Comarca da Barbanza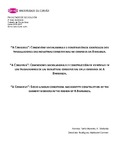 Except where otherwise noted, this item's license is described as Atribución-NoComercial-CompartirIgual 3.0 España
Title
A conserva: condicións sociolaborais e construción de identidade dos traballadores das industrias conserveiras na Comarca da Barbanza
Alternative Title(s)
A conserva: condiciones sociolaborales y construcción de identidad de los trabajadores de las industrias conserveras en la Comarca de A Barbanza
A conserva: socio-labour conditions and identity construction of the cannery workers in the Region of A Barbanca

Author(s)
Directors
Rodríguez Rodríguez, Carmen
Date
2017
Center/Dept./Entity
Universidade da Coruña. Facultade de Socioloxía
Description
Traballo fin de grao (UDC.SOC). Socioloxía. Curso 2016/2017
Abstract
[Resumo] A presente investigación ten como finalidade principal realizar unha aproximación ao estudo da industria conserveira en A Barbanza, á análise das súas condicións sociolaborais e á súa relación coa identidade dos seus traballadores. Un dos piares deste traballo é a construción do marco teórico para o que se levou a cabo unha complexa revisión bibliográfica. Esta complementouse cunha análise documental e unha análise de base de datos. O outro é a elaboración e posta en práctica dunha investigación baseada nunha metodoloxía cualitativa, centrada na entrevista semi-estruturada. Deste modo, preténdese analizar como os cambios na industria conserveira influíron nas condicións laborais e como estes cambios puideron repercutir no sentimento identitario.
[Resumen] La presente investigación tiene como finalidad principal realizar una aproximación al estudio de la industria conservera en A Barbanza, al análisis de sus condiciones sociolaborales y a su relación con la identidad de sus trabajadores. Uno de los pilares de este trabajo es la construcción del marco teórico para lo que se ha llevado a cabo una compleja y completa revisión bibliográfica. Ésta se ha complementado con un análisis documental y un análisis de bases de datos. El otro es la elaboración y puesta en práctica de una investigación basada en una metodología cualitativa, centrada en la entrevista semi-estructurada. De este modo, se pretende analizar cómo los cambios en la industria conservera influyeron en las condiciones laborales y cómo estos cambios han podido repercutir en el sentimiento identitario.
[Abstract] The main objective of this research is to study the cannery industry in A Barbanza, the analysis of its socio-labour conditions and its relationship with the identity of its workers. One of the pillars of this work is the construction of the theoretical framework for which has been carried out a complex and complete bibliographical review. This has been complemented by a documentary analysis and a database analysis. The other is the development and implementation of a research based on a qualitative methodology, focused on the semi-structured interview. Thereby, it is tried to analyze how the changes in the canning industry influenced in the working conditions and how these changes have been able to have repercussion in the identity feeling.
Keywords
Industria
Conserveira
Barbanza
Traballo
Identidade
Muller
Conservera
Trabajo
Identidad
Mujer
Industry
Cannery
Work
Identity
Woman
Rights
Atribución-NoComercial-CompartirIgual 3.0 España