Arde o monte: unha aproximación ao estudo dos incendios forestais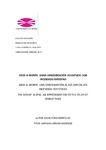 Title
Arde o monte: unha aproximación ao estudo dos incendios forestais
Alternative Title(s)
Arde el monte: una aproximación al estudio de los incendios forestales
The mount burns: an approximation of the study of forest fires

Author(s)
Directors
Míguez González, Santiago
Date
2019
Center/Dept./Entity
Universidade da Coruña. Facultade de Socioloxía
Description
Traballo fin de grao (UDC.SOC). Socioloxía. Curso 2018/2019
Abstract
[Resumo] Esta investigación trata de estudar os incendios forestais en Galicia mediante unha análise cualitativa dos testemuños de distintos traballadores do sector. Estes relatos posibilitáronnos coñecer as perspectivas e experiencias dos técnicos, axentes e xefes de brigada do Distrito XV da Limia sobre aspectos relacionados cos lumes: as causas que os provocan dende puntos de vista físicos, climatolóxicos e estruturais, os problemas que xeran divididos en sociais, ambientais e económicos, e, as políticas públicas que intentan controlalos e reducilos, reflexionando sobre a eficacia e eficiencia que están tendo actualmente. Con isto, a intención última deste estudo é proporcionar unha serie de melloras de cara á lexislación que saia nun futuro e que trate de reducir ao mínimo as incidencias que provocan os incendios no territorio galego.
[Resumen] Esta investigación trata de estudiar los incendios forestales en Galicia mediante un análisis cualitativo de los testimonios de distintos trabajadores del sector. Estos relatos nos posibilitaron conocer las perspectivas y experiencias de los técnicos, agentes y jefes de brigada del Distrito XV de la Limia sobre aspectos relacionados con los fuegos: las causas que los provocan desde puntos de vista físicos, climatológicos y estructurales, los problemas que generan divididos en sociales, ambientales y económicos, y, las políticas públicas que intentan controlarlos y reducirlos, reflexionando sobre la eficacia y eficiencia que están teniendo actualmente. Con esto, la intención última de este estudio es proporcionar una serie de mejoras de cara a la legislación que salga en uno futuro y que trate de reducir al mínimo los incidentes que provocan los incendios en el territorio gallego.
[Abstract] This research focuses on forest fires in Galicia through a qualitative analysis of the testimonies of different workers in the sector. These stories enabled us to learn about the perspectives and experiences of the technicians, agents and brigade chiefs of the XV district of La Limia on aspects related to fires: the causes that provoke them from physical, climatological and structural viewpoints, the problems that they generate divided in social, environmental and economic, and, the public policies that try to control and reduce them, reflecting on the effectiveness and efficiency that they are currently having. With this, the ultimate intention of this study is to provide a series of improvements in legislation that comes out in the future and that tries to minimize the incidents that cause fires in the Galician territory.
Keywords
Incendio forestal
Abandono do rural
Eucalipto
Cultura do lume
Abandono del rural
Cultura del fuego
Forest fires
Rural abandonment
Eucalyptus
Fire culture
Rights
Os titulares dos dereitos de propiedade intelectual autorizan a visualización do contido deste traballo a través de Internet, así como a súa reproducción, gravación en soporte informático ou impresión para o seu uso privado e/ou con fins de estudo e de investigación. En nengún caso se permite o uso lucrativo deste documento. Estos dereitos afectan tanto ó resumo do traballo como o seu contido Los titulares de los derechos de propiedad intelectual autorizan la visualización del contenido de este trabajo a través de Internet, así como su repoducción, grabación en soporte informático o impresión para su uso privado o con fines de investigación. En ningún caso se permite el uso lucrativo de este documento. Estos derechos afectan tanto al resumen del trabajo como a su contenido