Fecundaciones, infecciones, excitaciones extrañas: imágenes de la modernidad entre siglos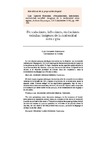 View/Open
Collections
Title
Fecundaciones, infecciones, excitaciones extrañas: imágenes de la modernidad entre siglos
Author(s)
Date
2018
Citation
Luis Caparrós Esperante, «Fecundaciones, infecciones, excitaciones extrañas: imágenes de la modernidad entre siglos», Bulletin Hispanique, 120:2 (diciembre 2018), pp. 489- 504.
Abstract
[Resumen] El título resume algunas estrategias discursivas sobre la recepción de novedades literarias en la España del XIX y apunta a los límites de la modernidad desde la segunda mitad. Interesa indagar en los significados agazapados bajo el tono y maneras de los discursos casticistas, de unos y de otros. El objetivo sería comprobar si el auténtico problema estaba en las esencias, en la contaminación del lenguaje o en otro plano.
[Résumé] Le titre résume quelques stratégies discursives sur la réception des nouveautés littéraires de l'Espagne du XIXe et il interroge les limites de la modernité à partir de la deuxième moitié du siècle. Il s'agit d'enquêter sur les signifiés cachés derrière le ton et les manières des discours casticistas des uns et des autres. L'objectif est de vérifier si le véritable problème se trouvait dans les « essences », dans la contamination du langage ou à d'autres niveaux.
[Abstract] The title summarizes some discursive strategies on the reception of literary developments in nineteenth-century Spain, as it points out the limits of modernity from the second half of the century. The aim is to analyse the meanings hiding behind the tone and manner of casticista speeches, on both sides of the political scene. In this way, we will check if the real problem was essences, pollution in language or perhaps on another plane.
Keywords
Modernidad
Infecciones literarias
Casticismo
Unamuno
Azorín
Rubén Darío
Erotismo
Literatura del XIX
Modernismo
Nacionalismo
Modernité
Infections littéraires
Modernity
Literary Infections
Description
Este artículo es un preprint del original publicado en Bulletin Hispanique, 120:2 (diciembre 2018), pp. 489-504. Para citas y referencias, consúltese aquel.
Editor version