Análisis de datos climatológicos del área de A Coruña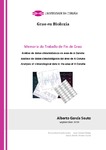 Title
Análisis de datos climatológicos del área de A Coruña
Alternative Title(s)
Análise de datos climatolóxicos da área de A Coruña
Analysis of climatological data in the area of A Coruña

Author(s)
Directors
Santos-Fidalgo, Luisa
Jácome Pumar, María Amalia

Date
2018
Center/Dept./Entity
Universidade da Coruña. Facultade de Ciencias
Description
Traballo fin de grao (UDC.CIE). Bioloxía. Curso 2017/2018
Abstract
[Resumen]: Desde la segunda mitad del siglo XX hay evidencias de que el clima global podría estar cambiando, y fundadas sospechas de que este cambio podría tener su origen en las actividades asociadas al desarrollo socioeconómico e industrial de la humanidad sobre el planeta. La forma más eficaz de evaluar y cuantificar este cambio climático es analizar estadísticamente los datos pasados de distintas variables climatológicas, construir modelos matemáticos que expliquen el comportamiento de esas variables, y comprobar si el clima actual se corresponde o no con lo que los resultados de esos análisis y los modelos matemáticos indican. Con base en esta idea se han efectuado ya numerosos estudios a nivel global y sobre regiones geográficas amplias. Dichos estudios arrojan resultados diversos, pero que en general tienden a corroborar la existencia del mencionado cambio climático. Son escasos, sin embargo, los trabajos realizados sobre zonas de extensión reducida como pequeñas ciudades o pueblos. Tales estudios presentan utilidad no sólo para mejorar la gestión social y económica de las localidades sobre las que se llevan a cabo, sino también para evaluar los resultados de los estudios efectuados sobre áreas geográficas mayores. Son también escasos los estudios comparativos entre estaciones meteorológicas geográficamente muy próximas entre sí. Los resultados que estos estudios pueden arrojar son importantes porque permiten determinar la influencia que sobre las variables meteorológicas locales ejercen factores como la orografía o la distancia a la costa. En este trabajo se analizaron estadísticamente los datos de la temperatura y la precipitación registrados en el área de la ciudad de A Coruña en los últimos sesenta años. Se utilizaron datos de dos estaciones meteorológicas distintas y próximas entre sí para ajustar modelos lineales explicativos de las variables climatológicas en función del tiempo y de la localización de la estación concreta de la que se tomaron los datos. Con estos modelos se comparó la situación climática de las pasadas décadas con la actual. Los resultados del análisis efectuado parecen indicar que la temperatura local de A Coruña presenta, a lo largo de las últimas décadas, una tendencia al alza que se mantiene en la actualidad y que podría estar incluso acentuándose. La situación de la precipitación, en cambio, no es tan clara, no pudiendo inferirse a partir de los análisis realizados la existencia de ninguna tendencia evidente en esta variable climatológica.
[Resumo]: Dende a segunda metade do século XX hai evidencias de que o clima global podería estar cambiando, e sospeitas fundadas de que este cambio podería ter a súa orixe nas actividades asociadas ao desenvolvemento socioeconómico e industrial da humanidade no planeta. A forma máis efectiva de valorar e cuantificar este cambio climático é analizar estatísticamente os datos pasados de diferentes variables climatolóxicas, construír modelos matemáticos que expliquen o comportamento desas variables, e comprobar se o clima actual corresponde ou non co que os resultados destas análises e os modelos matemáticos desenvolvidos indican. Con base nesta idea, téñense feito xa numerosos estudos a nivel global e en rexións xeográficas extensas. Estes estudos amosan resultados diferentes, pero en xeral tenden a corroborar a existencia do mencionado cambio climático. Son raros, con todo, os traballos desenvolvidos en áreas de extensión reducida como pequenas cidades ou vilas. Tales estudos son de utilidade non só para mellorar a xestión social e económica das localidades nas que se realizan, senón tamén para avaliar os resultados dos estudos levados a cabo en áreas xeográficas máis grandes. Tamén son poucos os estudos comparativos entre estacións meteorolóxicas xeográficamente moi próximas. Os resultados que se poden obter destes estudos son importantes porque permiten determinar a influencia que sobre as variables meteorolóxicas locais exercen factores coma a orografía ou a distancia á costa. Neste traballo analizáronse estatísticamente os datos de temperatura e precipitación rexistrados na área da cidade de A Coruña nos últimos sesenta anos. Empregáronse datos de dúas estacións meteorolóxicas distintas e próximas entre elas para axustar modelos lineais explicativos das variables climatolóxicas en función do tempo e da localización da estación específica da que se tomaron os datos. Con estes modelos comparouse a situación climática das últimas décadas coa actual. Os resultados da análise levada a cabo parecen indicar que a temperatura local de A Coruña presenta, ao longo das últimas décadas, unha tendencia ascendente que se mantén na actualidade e que podería incluso estarse acentuando. A situación das precipitacións, por outra banda, non é tan clara e non é posible inferir a partir das análises realizadas se esta variable climatolóxica presenta unha tendencia evidente.
[Abstract]: Since the second half of the twentieth century there is evidence that the global climate may be changing, and well-founded suspicions that this change could have its origin in the activities associated with the socio-economic and industrial development of humanity on the planet. The most effective way to evaluate and quantify this climate change is to statistically analyze the past data of different climatological variables, construct mathematical models that explain the behavior of these variables, and check whether the current climate corresponds or not with what the results of those analyses and mathematical models indicate. Based on this idea, many works have already been carried out on a global scale and over broad geographic regions. These works show different results, but they in general tend to corroborate the existence of the mentioned climate change. However, there are not many works carried out on areas of reduced extension such as small towns or villages. Such studies are useful not only to improve the social and economic management of the localities where they are carried out, but also to evaluate the results of works related to larger geographical areas. There are also not many research works comparing two meteorological stations geographically very close to each other. The results that such researches can yield are important since they can be used to determine the influence of factors such as orography or distance to the coast on the local meteorological variables. This paper statistically analyzed the data of temperature and precipitation recorded in the area of the city of A Coruna in the last sixty years. Data from two different and close to each other weather stations were used to adjust explanatory linear models of the climatological variables as a function of both time and location of the specific station from where the data were taken. Later, these models were used to compare the climatic situation of the past decades with the current one. The results of the analysis suggest that the local temperature of A Coruna has followed, over the last decades, an upward trend that remains at the present time and that could even be getting more pronounced. The situation of precipitation, however, is not so clear, and it cannot be inferred from the analysis carried out whether this climatological variable has followed an upward or downward trend.
Keywords
Clima
Cambio climático
A Coruña
Modelo lineal
Datos climatológicos
Estación meteorológica
Temperatura
Precipitación
Datos climatolóxicos
Estación meteorolóxica
Climate
Climate change
A Coruña
Linear model
Climatological data
Weather station
Temperature
Precipitation
Rights
Os titulares dos dereitos de propiedade intelectual autorizan a visualización do contido deste traballo a través de Internet, así como a súa reproducción, gravación en soporte informático ou impresión para o seu uso privado e/ou con fins de estudo e de investigación. En nengún caso se permite o uso lucrativo deste documento. Estos dereitos afectan tanto ó resumo do traballo como o seu contido Los titulares de los derechos de propiedad intelectual autorizan la visualización del contenido de este trabajo a través de Internet, así como su repoducción, grabación en soporte informático o impresión para su uso privado o con fines de investigación. En ningún caso se permite el uso lucrativo de este documento. Estos derechos afectan tanto al resumen del trabajo como a su contenido