Long-term changes in seaweed communities of NW Iberia: results and tools for future studies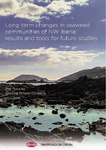 Title
Long-term changes in seaweed communities of NW Iberia: results and tools for future studies
Author(s)
Directors
Cremades Ugarte, Javier
Barreiro, Rodolfo

Date
2018
Abstract
[Resumen] Las macroalgas son las principales especies fundadoras de ecosistema de los sistemas costeros rocosos de mares templados. En los últimos años, se han observado cambios en su distribución y abundancia que han sido asociados al cambio climático y a factores locales que están afectando a ecosistemas marinos costeros de todo el mundo. La información sobre el estado actual de conservación de las macroalgas en el NO de Iberia es más bien escaso. Por ello, en esta tesis se estudiaron los cambios de abundancia de algunas algas intermareales y los posibles mecanismos que pueden estar detrás de los mismos. En el Capítulo I, se estudiaron los cambios de frecuencia de ocupación de 33 algas intermareales perennes comunes en el NO de Iberia en los últimos 15 años y se compararon con las tendencias temporales de algunos agentes ambientales potencialmente importantes. En los Capítulos II y III, se investigó experimentalmente la posible implicación de factores del cambio global como el incremento de temperatura o el debilitamiento del afloramiento ibérico en los cambios observados en el campo [Capítulo I). Para finalizar, en el Capítulo IV se evaluó el impacto de actividades locales como la extracción de semilla de mejillón en el intermareal rocoso del NO de Iberia sobre la comunidad sésil acompañante.
[Resumo] As macroalgas son as principais especies fundadoras de ecosistema dos sistemas costeiros rochosos dos mares temperados. Nos últimos anos observáronse cambios na súa distribución e abundancia asociados ó cambio climático e a factores locais que están afectando os ecosistemas mariños costeiros de todo o mundo. A información sobre o estado actual de conservación das macroalgas no NO de Iberia é máis ben escaso. Por isto, en esta tese se estudaron os cambios de frecuencia de ocupación de algas intermareais e os posibles mecanismos que poden estar detrás dos mesmos. No Capítulo I se estudaron os cambios de frecuencia de ocupación de 33 algas intermareais perennes comúns no NO de Iberia nos últimos 15 anos e se compararon coas tendencias temporais de algúns axentes ambientais potencialmente importantes. Nos Capítulos II Y III investigouse experimentalmente a posible implicación de factores do cambio global como o incremento de temperatura ou o enfraquecemento do afloramento ibérico nos cambios observados no campo (Capítulo I). Para finalizar, no Capítulo IV avaliouse o impacto de actividades locais como a extracción de semente de mexillón no intermareal rochoso do NO de Iberia sobre a comunidade sésil acompañante.
[Abstract] Macroalgae are main foundation species in temperate coastal rocky shore ecosystems. In recent years, changes in the distribution and abundance of seaweeds hove been detected. These changes hove been attributed to climate change as well as to local stressor that are disturbing marine ecosystems worldwide. The conservation status of marine macroalgae in the NO of Iberia is poorly known. In this thesis, the changes in the abundance of intertidal seaweeds and the potential mechanisms behind these changes were studied. In Chapter 1, changes in the frequency of occupation of 33 common perennial intertidal seaweeds in NW Iberia over the last 15 years were recorded; these changes were compared with time trends in potential environmental drivers. In Chapters II and III, global change lactors such as water warming and a weakening of the Iberian Upwelling system were experimentally investigated as potential drivers of the trend detected in the lield (Chapter I). Finally, in Chapter IV the impact of local activities such as the exploitation of intertidal mussel seed banks on the accompanying non-target sessile community was assessed.
Keywords
Macroalgas-Galicia
Ecología marina-Galicia
Algas marinas-Ecología-Galicia
Algas marinas-Ecofisiología-Galicia
Description
Programa Oficial de Doutoramento DO*MAR Marine Science, Technology and Management . 564V01
Rights
Os titulares dos dereitos de propiedade intelectual autorizan a visualización do contido desta tese a través de Internet, así como a súa reproducción, gravación en soporte informático ou impresión para o seu uso privado e/ou con fins de estudo e de investigación. En nengún caso se permite o uso lucrativo deste documento. Estos dereitos afectan tanto ó resumo da tese como o seu contido Los titulares de los derechos de propiedad intelectual autorizan la visualización del contenido de esta tesis a través de Internet, así como su repoducción, grabación en soporte informático o impresión para su uso privado o con fines de investigación. En ningún caso se permite el uso lucrativo de este documento. Estos derechos afectan tanto al resumen de la tesis como a su contenido