El surgimiento y la consolidación del Nihilismo en la cultura del siglo XIX: una sociología de la literatura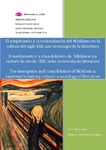 View/Open
Title
El surgimiento y la consolidación del Nihilismo en la cultura del siglo XIX: una sociología de la literatura
Alternative Title(s)
O xurdimento e a consolidación do Nihilismo na cultura do século XIX: unha socioloxía da literatura
The emergence and consolidation of Nihilism in nineteenth-century culture: a sociology of literature

Author(s)
Directors
Cardesín Díaz, José María
Date
2018
Center/Dept./Entity
Universidade da Coruña. Facultade de Socioloxía
Description
Traballo fin de grao (UDC.SOC). Socioloxía. Curso 2017/2018
Abstract
[Resumen] Esta investigación tratará de encontrar las causas y características del nihilismo a través de la literatura del siglo XIX. Se explicará así cómo ha surgido este movimiento y cómo ha ido evolucionando a lo largo del siglo, teniendo en cuenta las transformaciones que tenían lugar en la época y cómo estas se plasmaban en el arte. Se dará no sólo una visión desde el plano filosófico, sino también desde el plano sociológico, de manera que se puedan observar cómo los cambios sociales influyeron en la formación del movimiento, y cómo a su vez el surgimiento de este movimiento creaba nuevas cuestiones sociológicas. De esta forma, se tratará de comprender el movimiento nihilista, para poder analizar así su influencia en la literatura y el pensamiento del siglo XX y su continua repercusión hasta la actualidad.
[Resumo] Esta investigación tratará de atopar as causas e características do nihilismo a través da literatura do século XIX. Explicarase así como xurdiu este movemento e como foi evolucionando ao longo do século, tendo en conta as transformacións que tiñan lugar na época e como estas se plasmaban na arte. Darase non só unha visión desde o plano filosófico, senón tamén desde o plano sociolóxico, de maneira que se poidan observar como os cambios sociais influíron na formación do movemento, e como á súa vez o xurdimento deste movemento creaba novas cuestións sociolóxicas. Desta forma, tratarase de comprender o movemento nihilista, para poder analizar así a súa influencia na literatura e o pensamento do século XX e a súa continua repercusión ata a actualidade.
[Abstract] This research will try to find the causes and characteristics of nihilism through nineteenth century literature. It will explain how this movement has arisen and how it has evolved throughout the century, taking into account the transformations that took place at the time and how these were reflected in art. It will be given not only a view from the philosophical plane, but also from the sociological level, so that you can see how social changes influenced the formation of the movement, and how in turn the emergence of this movement created new sociological issues. In this way, we will try to understand the nihilist movement, to be able to analyze its influence in the literature and thought of the 20th century and its continuous repercussion up to the present.
Keywords
Nihilismo
Metafísica
Religión
Angustia
Conciencia
Libertad
Razón
Insignificancia
Relixión
Liberdade
Nihilism
Metaphysics
Religion
Anguish
Conscience
Freedom
Reason
Insignificance
Rights
Os titulares dos dereitos de propiedade intelectual autorizan a visualización do contido deste traballo a través de Internet, así como a súa reproducción, gravación en soporte informático ou impresión para o seu uso privado e/ou con fins de estudo e de investigación. En nengún caso se permite o uso lucrativo deste documento. Estos dereitos afectan tanto ó resumo do traballo como o seu contido Los titulares de los derechos de propiedad intelectual autorizan la visualización del contenido de este trabajo a través de Internet, así como su repoducción, grabación en soporte informático o impresión para su uso privado o con fines de investigación. En ningún caso se permite el uso lucrativo de este documento. Estos derechos afectan tanto al resumen del trabajo como a su contenido