Dabigatrán fronte acenocumarol ou warfarina en pacientes con fibrilación auricular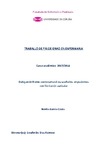 Collections
Title
Dabigatrán fronte acenocumarol ou warfarina en pacientes con fibrilación auricular
Author(s)
Directors
De Dios Romero, Serafín
Date
2018
Center/Dept./Entity
Universidade da Coruña. Facultade de Enfermaría e Podoloxía
Description
Traballo fin de grao (UDC.FEP). Enfermaría. Curso 2017/2018
Abstract
[Resumo] Introdución: A fibrilación auricular non valvular (FANV) é a arritmia máis frecuente e o ictus a súa principal complicación. Nos pacientes con alto risco de embolización, a terapia anticoagulante demostrou ser altamente eficaz. Os antagonistas da vitamina K (AVK) [acenocumarol (Sintrom®) e warfarina (Aldocumar®] foron durante décadas a única opción dispoñible para a terapia anticoagulante oral (TAO) na prevención das complicacións tromboembólicas da FANV. A súa indicación está limitada polo seu rango terapéutico estreito, interaccións, requirimento de controis rutineiros e risco de hemorraxia. Recentemente desenroláronse os novos anticoagulantes orais (NACOs), entre eles está o dabigatrán (Pradaxa®), con unha farmacocinética e farmacodinámica máis predicible, sen apenas interaccións e sen unha necesidade de facer controis. Obxectivos: O obxectivo principal desta revisión é recompilar a información máis relevante e actual, acerca das principais diferenzas e as posibles vantaxes e desvantaxes dos antagonistas da vitamina K fronte ao dabigatrán. Metodoloxía: Realizouse unha revisión sistemática da literatura existente para expoñer a información máis actual sobre a cuestión prantexada. Realizouse unha busca entre os meses de febreiro e maio do 2018. Nas bases de datos Scopus, Pubmed e Cochrane library plus. Resultados: Tras a busca citada anteriormente atopáronse 13 artigos que responden a pregunta de estudo, e que cumprían os criterios de inclusión e exclusión seleccionados para o traballo. Conclusión: Segundo os artigos revisados, podemos chegar a conclusión de que o dabigatrán pode ser nun futuro unha alternativa máis que fiable para substituír aos AVK en pacientes con FANV.
[Resumen] Introducción: La fibrilación auricular no valvular (FANV) es la arritmia más frecuente y el ictus su principal complicación. En los pacientes con alto riesgo de embolización, la terapia anticoagulante demostró ser altamente eficaz. Los antagonistas de la vitamina K (AVK) [acenocumarol (Sintrom®) y warfarina (Aldocumar®] fueron durante décadas la única opción disponible para la terapia anticoagulante oral (TAO) en la prevención de las complicaciones tromboembólicas de la FA. Su indicación está limitada por su rango terapéutico estrecho, interacciones, requerimiento de monitorización y riesgo de hemorragia. Recientemente se desarrollaron los nuevos anticoagulantes orales (NACOs), entre ellos está el dabigatrán (Pradaxa®), con una farmacocinética y farmacodinamica más predecible, sin apenas interacciones y sin una necesidad de hacer controles. Objetivos: El objetivo principal de esta revisión es recopilar la información más relevante y actual, a cerca de las principales diferencias y las posibles ventajas e inconvenientes de los antagonistas de la vitamina K frente al dabigatrán. Metodología: Se realizó una revisión sistemática de la literatura existente para exponer la información más actual sobre la cuestión planteada. Se realizó una búsqueda entre los meses de febrero y mayo del 2018. En las bases de datos Scopus, Pubmed y Cochrane library plus. Resultados: Tras la búsqueda citada con anterioridad se encontraron 13 artículos que responden a la pregunta de estudio, y que cumplían los criterios de inclusión y exclusión seleccionados para el trabajo. Conclusión: Según los artículos revisados, podemos llegar a la conclusión de que el dabigartrán puede ser una alternativa más que fiable para sustituir a los AVK en pacientes con FANV.
[Abstract] Introduction: Non-valvular atrial fibrillation is the most frequent arrhythmia and stroke is his principal complication. In patients at high risk of embolization, anticoagulant therapy proved to be highly effective. Antagonists of vitamin K (AVK) [acenocoumarol (Sintrom®) and warfarin (Aldocumar®) were for decades the only option available for oral anticoagulant therapy (OAT) in the prevention of thromboembolic complications of AF. His indication is limited by his therapeutic narrow range, interactions, requirement of monitoring and risk of hemorrhage. Recently the new oral anticoagulants developed, between them be the dabigatran (Pradaxa), with a pharmacokinetics and pharmacodynamics more predictable, without scarcely interactions and without a need to do controls. Objectives: The main objective of this review is to collect the most relevant and current information about the main differences and the possible advantages and disadvantages of vitamin K antagonists against dabigatran. Methodology: A systematic review of the existing literature was carried out to present the most current information on the question posed. A search was conducted between February and May of 2018. In the databases Scopus, Pubmed and Cochrane library plus. Results: After the search mentioned above, we found 13 articles that answered the study question, and that met the inclusion and exclusion criteria selected for the work. Conclusion: According to the reviewed articles, we can conclude that the dabigatran may be a more than reliable alternative to replace AVK in patients with NVAF.
Keywords
Fibrilación
Arritmia
Ictus
Anticoagulantes
Farmacocinética
Farmacodinámica
AVK
FANV
Fibrillation
Arrhythmia
Anticoagulants
Pharmacokinetics
Pharmacodinamics
NVAF
Rights
Os titulares dos dereitos de propiedade intelectual autorizan a visualización do contido deste traballo a través de Internet, así como a súa reproducción, gravación en soporte informático ou impresión para o seu uso privado e/ou con fins de estudo e de investigación. En nengún caso se permite o uso lucrativo deste documento. Estos dereitos afectan tanto ó resumo do traballo como o seu contido Los titulares de los derechos de propiedad intelectual autorizan la visualización del contenido de este trabajo a través de Internet, así como su repoducción, grabación en soporte informático o impresión para su uso privado o con fines de investigación. En ningún caso se permite el uso lucrativo de este documento. Estos derechos afectan tanto al resumen del trabajo como a su contenido