Prevalencia de Hallux Limitus en jugadores de fútbol federados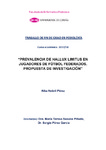 View/Open
Title
Prevalencia de Hallux Limitus en jugadores de fútbol federados
Author(s)
Directors
Seoane Pillado, María Teresa
Pérez García, Sergio

Date
2018
Center/Dept./Entity
Universidade da Coruña. Facultade de Enfermaría e Podoloxía
Description
Traballo fin de grao (UDC.FEP). Podoloxía. Curso 2017/2018
Abstract
[Resumen] La movilidad de la 1º AMTF en el plano sagital es un componente de vital importancia para el desarrollo de una marcha normal. Dicho movimiento ha recibido la atención de muchos autores a lo largo de los años. La deformidad de Hallux Limitus se ha definido como aquella en la que la base de la falange proximal del hallux está subluxada plantarmente sobre la cabeza del primer metatarsiano, con lo cual la 1º AMTF es incapaz de desarrollar todo el rango de extensión. El objetivo principal de la propuesta de investigación es determinar la prevalencia de Hallux Limitus en jugadores de futbol federados de la provincia de la Coruña. También se pretende: valorar las variables y la comorbilidad asociadas a la presencia de esta patología. Se llevará a cabo un estudio observacional de prevalencia descriptivo transversal.
[Resumo] A movilidade da 1º AMTF no plano saxital é un compoñente de vital importancia para o desenvolvemento dunha marcha normal. Dito movemento recibiu a atención de moitos autores ao longo dos anos A deformidade denominada Hallux Limitus defínese como aquela na que a base da falanxe proximal do hallux está subluxada plantar sobre a cabeza do primeiro metatarsiano, co que o 1º AMTF non pode desenvolver toda a extensión do rango. O obxectivo principal da proposta de investigación é determinar a prevalencia de Hallux Limitus en xogadores de fútbol federados da provincia da Coruña. Tamén se pretende: valorar as variables e a comorbilidade asociadas á presenza desta patoloxía. Se levará a cabo un estudo observacional de prevalencia descriptiva transversal.
[Abstract] The mobility of the 1st MTFA in the sagital plane is a component of vital importance for the development of a normal march. This movement has received the attention of many authors over the years. The deformity of Hallux Limitus has been defined as that in which the base of the proximal phalanx of the hallux is subluxed in a plantar way over the head of the first metatarsal, therefore the 1st MTFA is unable to develop the entire extension range. The main objective of this research proposal is to determine the prevalence of Hallux Limitus in federated soccer players in the province of A Coruña. It is also intended to: assess the variables and the comorbidity associated with the presence of this pathology An observational study of descriptive cross-sectional prevalence will be carried out.
Keywords
Hallux limitus
Hallux rigidus
Fútbol
Football
Soccer
Patología
Patoloxía
Pathology
Rights
Os titulares dos dereitos de propiedade intelectual autorizan a visualización do contido deste traballo a través de Internet, así como a súa reproducción, gravación en soporte informático ou impresión para o seu uso privado e/ou con fins de estudo e de investigación. En nengún caso se permite o uso lucrativo deste documento. Estos dereitos afectan tanto ó resumo do traballo como o seu contido Los titulares de los derechos de propiedad intelectual autorizan la visualización del contenido de este trabajo a través de Internet, así como su repoducción, grabación en soporte informático o impresión para su uso privado o con fines de investigación. En ningún caso se permite el uso lucrativo de este documento. Estos derechos afectan tanto al resumen del trabajo como a su contenido