La economía circular. Una propuesta de futuro para España y Europa.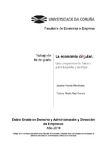 Title
La economía circular. Una propuesta de futuro para España y Europa.
Author(s)
Directors
Rey García, Marta
Date
2018
Center/Dept./Entity
Universidade da Coruña. Facultade de Economía e Empresa
Description
Traballo fin de grao (UDC.ECO). ADE. Curso 2017/2018
Abstract
[Resumen]: El objetivo general de este trabajo es realizar una aproximación técnica de la economía circular en el ámbito de la UE y de España. Fenómeno que experimentó una inusual expansión que coincide en el tiempo con los primeros análisis puramente económicos del concepto. Es precisamente este hecho el que nos lleva a formular una de las proposiciones que fundamenta la realización de este trabajo: la expansión de la economía circular tanto entre los actores públicos como privados se debe, fundamentalmente, al énfasis de los estudiosos en destacar los beneficios económicos del modelo. En esta aproximación se estudiarán los precedentes de la economía circular, su definición y características, así como sus principios rectores y el marco legal europeo y español, finalizando con el análisis de su incidencia en la cadena de valor, en la sociedad y en el medio ambiente. La metodología se basa en la síntesis y aprendizaje, partiendo de una bibliografía holística y transversal en la que se incluyen documentos legales; monografías técnicas, económicas e históricas; e informes de instituciones públicas y privadas dedicadas en exclusiva al estudio de este concepto. Las conclusiones confirman la proposición de partida y generan una serie de propuestas e iniciativas para implementar la economía circular sin centrarse en un solo actor implicado, sino envolviéndolos a todos.
[Abstract]: The main subject of this analysis is to make a technical approach the circular economy in the EU and Spain. This system experienced an unusual expansion that went along with the first economic analysis of the concept. This leads us to formulate one of the propositions of this study: the circular economy expansion among public and private actors is due to the emphasis made by researchers on the economic model benefits. In this research we analyse the circular economy precedents; its definition and characteristics; guiding principles; and legal framework, both in Europe and Spain. Subsequently, we evaluate its influence in the value chain, in society and in the environment. The methodology is based on the synthesis and learning, starting from a holistic and transversal bibliography in which legal documents are included; as well as technical, economic and historical monographs; and reports from public and private institutions dedicated to the study of this concept. The conclusions confirm the starting proposition and generate proposals and initiatives to implement the circular economy without focusing on a single actor involved, but involving all of them.
Keywords
Economía circular
Sostenibilidad
Cadena de valor
Ciclo técnico
Ciclo biológico
Economía restaurativa
Economía regenerativa
Circular economy
Sustainability
Value chain
Technical cycle
Biological cycle
Restorative economy
Regenerative economy
Rights
Os titulares dos dereitos de propiedade intelectual autorizan a visualización do contido deste traballo a través de Internet, así como a súa reproducción, gravación en soporte informático ou impresión para o seu uso privado e/ou con fins de estudo e de investigación. En nengún caso se permite o uso lucrativo deste documento. Estos dereitos afectan tanto ó resumo do traballo como o seu contido Los titulares de los derechos de propiedad intelectual autorizan la visualización del contenido de este trabajo a través de Internet, así como su repoducción, grabación en soporte informático o impresión para su uso privado o con fines de investigación. En ningún caso se permite el uso lucrativo de este documento. Estos derechos afectan tanto al resumen del trabajo como a su contenido