La protección internacional en Bizkaia y en Valencia: experiencias y prácticas locales de acogida entre lo público y lo común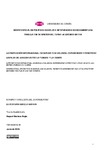 Title
La protección internacional en Bizkaia y en Valencia: experiencias y prácticas locales de acogida entre lo público y lo común
Alternative Title(s)
A protección internacional en Bizkaia e Valencia: experiencias e prácticas locais de acollida entre o público e o común
International protection in Bizkaia e Valencia: reception experiences and local practices between the public and the common

Author(s)
Directors
Martínez Buján, Raquel
Date
2018
Center/Dept./Entity
Universidade da Coruña. Facultade de Socioloxía
Description
Traballo fin de mestrado (UDC.SOC). Políticas sociais e intervención sociocomunitaria. Curso 2017/2018
Abstract
[Resumen] La llamada "crisis de los refugiados" en Europa, provoca entre los/as ciudadanos/as españoles/as el inicio de movilizaciones para la acogida y acciones solidarias dentro y fuera del territorio nacional. Tres años después, se analizan las experiencias y prácticas de acogida locales de personas solicitantes y beneficiarias de protección internacional. Así, el objetivo general de este Trabajo de Fin de Máster consiste en analizar las prácticas locales de acogida a la población refugiada en las provincias de Valencia y de Bizkaia desde el marco teórico de común y comunidad. En concreto, se centra en las iniciativas surgidas desde los espacios públicos no estatales o de origen comunitario, las aportaciones desde la esfera pública estatal y la esfera pública no estatal a la justicia social y sus interrelaciones. Para llevar a cabo este estudio se ha seguido una metodología cualitativa de tipo etnográfico y de carácter exploratorio, que abarca una contextualización de las iniciativas de acogida estatales, hasta la realización de un mapeo de las experiencias de acogida y clasificación tipológica de experiencias locales y comunitarias para la identificación de los estudios de caso. Las herramientas técnicas elegidas para verificar los objetivos del estudio consistieron en 6 sesiones de observación participante y 17 entrevistas semiestructuradas. Del análisis de los resultados se infieren dos perfiles territoriales con iniciativas de naturaleza diversa, donde los movimientos sociales representan un papel central en la creación de iniciativas de acogida propias o como fuente de presión para accionar las palancas institucionales, así como la existencia de pequeñas comunidades de apoyo constituidas por flujos mixtos y organizadas, en su mayoría, como comunidades de entreayuda informales.
[Resumo] A chamada "crise dos refuxiados" en Europa, provoca entre os/as cidadáns/as españois/as o inicio de mobilizacións para a acollida e accións solidarias dentro e fora do territorio nacional. Tres años despois, analízanse as experiencias e prácticas de acollida locais de persoas solicitantes e beneficiarias de protección internacional. Así, o obxectivo xeral deste Traballo de Fin de Mestrado consiste en analizar as prácticas locais de acollida da poboación refuxiada nas provincias de Valencia e de Bizkaia dende o marco teórico de común e comunidade. En concreto, céntrase nas iniciativas xurdidas dende os espazos públicos non estatais ou de orixe comunitario, as aportacións á xustiza socia dende a esfera pública estatal e a esfera pública non estatal, e as súas interrelacións. Para levar a cabo este estudo seguise unha metodoloxía cualitativa de tipo etnográfico e de carácter exploratorio, que abarca unha contextualización das iniciativas de acollida estatais, ata a realización dun mapeo das experiencias de acollida e clasificación tipolóxica de experiencias locais e comunitarias para a identificación dos estudos de caso. As ferramentas técnicas elixidas para verificar os obxectivos do estudo consistiron en 6 sesións de observación participante e 17 entrevistas semiestructuradas. Da análise dos resultados infírense perfiles territoriais con iniciativas de natureza diversa, onde os movementos sociais representan un papel central na creación de iniciativas de acollida propias, ou coma fonte de presión para accionar as palancas institucionais, así como a existencia de pequenas comunidades de apoio constituídas por fluxos mixtos e organizadas, na súa maioría, como comunidades de entre axuda informais.
[Abstract] The so called "refugee crisis" in Europe causes among the Spanish citizens the beginning of welcoming actions and pro-reception mobilizations inside and outside the national territory. Three years later, the experiences and local reception practices of applicants and beneficiaries of international protection are analysed. Thus, the general objective of this Master's Thesis is to analyse the local practices of reception of the refugee population in the provinces of Valencia and Bizkaia from the theoretical framework of common and community. Specifically, it focuses on initiatives arising from public non-state or community-based spaces, contributions from the state public sphere and the non-state public sphere to social justice and their interrelationships. To carry out this study, a qualitative ethnographic and exploratory methodology has been followed, which includes a contextualization of the state reception initiatives, and a mapping of the host experiences and typological classification of local and community experiences in order to identify and select the case studies. The technical tools chosen to verify the objectives of the study involved 6 sessions of participant observation and 17 semi-structured interviews. From the analysis of the results, two distinct territorial profiles are inferred, where social movements play a central role in creating their own reception initiatives, or as a source of pressure to operate at the institutional level. Small support communities constituted by mixed organized flows are found, in their majority, constituted as informal inter-help communities.
Keywords
Asilo
Acogida
Migraciones forzosas
Refugiados
Comunidad
Protección internacional
Acollida
Migracións forzosas
Refuxiados
Comunidade
Asylum
Reception
Forced migrations
Refugees
Community
International protection
Rights
Atribución 3.0 España