Transición territorial: modelo teórico y contraste con el caso español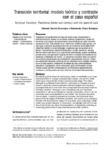 Title
Transición territorial: modelo teórico y contraste con el caso español
Alternative Title(s)
Territorial Transition: Theoretical Model and Contrast with the Spanish Case
Date
2012
Citation
García Docampo, M. and Otero Enríquez, R. (2012). Transición territorial: modelo teórico y contraste con el caso español. Revista Española de Investigaciones Sociológicas.
Abstract
[Resumen] : Analizando conjuntamente los fl ujos de éxodo rural, concentración y desconcentración urbana, en un mismo sistema comprensivo, podemos encontrar unas lógicas de asentamiento características de cada momento socioeconómico. Este artículo es un intento por sintetizar esas pautas, que dan lugar a cambios de protagonismo en las dinámicas territoriales entre diferentes hábitats y en las tipologías migratorias que se suceden en el tiempo. Denominamos transición territorial al modelo resultante. Aunque tiene un entronque teórico con importantes precedentes, puede considerarse este como una aportación original, en tanto no existen formulaciones tan explícitas y detalladas del mismo. La secuencia expositiva tiene dos partes: se comienza presentando los fundamentos, antecedentes teóricos y fases de la transición territorial; continúa con un contraste con la realidad observada en el caso español, analizando en detalle algunas particularidades relevantes. Subrayamos, como conclusión, que la formulación de este modelo puede permitir la interpretación de fenómenos aparentemente confusos o contrapuestos de otros sistemas territoriales internacionales.
[Abstract] : By analyzing all the fl ows of rural exodus, urban concentration and urban deconcentration in a single comprehensive system, we can fi nd settlement logics characteristic of each socioeconomic stage. This article attempts to synthesize these patterns, which lead to changes of prominence in territorial dynamics between different habitats and migratory typologies that occur over time. We conceptualize the resulting model as territorial transition. Although it has a theoretical link with important precedents, it can be considered an original contribution, since it has not previously been conceptualized in such detail. The narrative sequence has two parts. It begins by presenting the basis, the theoretical background and the stages of territorial transition, and continues by drawing a contrast with the observed reality of the Spanish case, analyzing in detail certain key specifi c features. In conclusion, we highlight that the formulation of this model may allow the interpretation of apparently confusing or confl icting phenomena of other international territorial systems.
Keywords
Migraciones interiores
Concentración urbana
Contraurbanización
Áreas urbanas
Internal migration
Urban concentration
Counterurbanization
Urban areas
Editor version
Rights
© Centro de Investigaciones Sociológicas
ISSN
0210-5233