Aplicación de metodología DIP a la fabricación, transporte y ensamblaje de la estructura metálica del Hospital de Guanta, Venezuela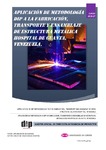 View/Open
Collections
Title
Aplicación de metodología DIP a la fabricación, transporte y ensamblaje de la estructura metálica del Hospital de Guanta, Venezuela
Author(s)
Directors
Nieto de Almeida, Arturo
Date
2017
Center/Dept./Entity
Universidade da Coruña. Escola Universitaria de Arquitectura Técnica
Description
Traballo fin de mestrado (UDC.EUAT). Dirección integrada de proxectos. Curso 2016/2017
Abstract
[Resumen] Con la realización del presente trabajo se busca poner en práctica los conocimientos desarrollados durante el curso 2016-2017 del Máster Oficial de Dirección Integrada de Proyectos, impartidos por la Universidad de A Coruña en conjunto con la Universidad de Vigo. La implementación de la metodología DIP a la fabricación, transporte y ensamblaje de la estructura metálica del Hospital de Guanta se basa en dirigir de manera integral y todos los recursos a fin de conseguir los objetivos principales que se han planteado para conseguir el éxito del proyecto desde el punto de vista del Director de Proyecto, lo que pone a prueba las habilidades del alumno en este rol y el uso de las herramientas y técnicas diseñadas para ello.
[Resumo] Coa realización do presente traballo búscase poñer en práctica os coñecementos desenvolvidos durante o curso 2016-2017 do Máster Oficial de Dirección Integrada de Proxectos, impartidos pola Universidade da Coruña en conxunto coa Universidade de Vigo. A implementación da metodoloxía DIP á fabricación, transporte e ensamblaxe da estrutura metálica do Hospital de Guanta baséase en dirixir de maneira integral e todos os recursos a fin de conseguir os obxectivos principais que se expuxeron para conseguir o éxito do proxecto desde o punto de vista do Director de Proxecto, o que pon a proba as habilidades do alumno neste rol e o uso das ferramentas e técnicas deseñadas para iso.
[Abstract] The realization of this work seeks to put into practice the knowledge developed during 2016- 2017 of the Master DIP conducted by the University of A Coruña in conjunction with the University of Vigo. The implementation of the DIP methodology to the fabrication, transport and assembly of the steel structure of the Hospital of Guanta in Venezuela is based on direct all resources and comprehensive way in order to achieve the main objectives which have been identified to achieve the success of the project from the point of view of the of the Project Manager, which will test the skills of the student in this role and use of tools and techniques designed to do this Master work.
Keywords
Director de proyecto
Estructura metálica
Ensamblaje
Hospital de Guanta
Transporte
Fabricación
Dirección integrada de proyectos
Director de proxecto
Estrutura metálica
Ensamblaxe
Project manager
Assembly
Steel structure
Transport
Fabrication
Rights
Os titulares dos dereitos de propiedade intelectual autorizan a visualización do contido deste traballo a través de Internet, así como a súa reproducción, gravación en soporte informático ou impresión para o seu uso privado e/ou con fins de estudo e de investigación. En nengún caso se permite o uso lucrativo deste documento. Estos dereitos afectan tanto ó resumo do traballo como o seu contido Los titulares de los derechos de propiedad intelectual autorizan la visualización del contenido de este trabajo a través de Internet, así como su repoducción, grabación en soporte informático o impresión para su uso privado o con fines de investigación. En ningún caso se permite el uso lucrativo de este documento. Estos derechos afectan tanto al resumen del trabajo como a su contenido