Fabricación de materiales con gradiente funcional mediante LMD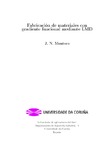 Except where otherwise noted, this item's license is described as Atribución-NoComercial-SinDerivadas 3.0 España
Title
Fabricación de materiales con gradiente funcional mediante LMD
Author(s)
Directors
Yáñez Casal, Armando José
Tobar Vidal, María José

Date
2017
Center/Dept./Entity
Universidade da Coruña.Departamento de Enxeñaría Industrial II
Abstract
[Resumen] El prototipado rápido de gradientes funcionales es un nuevo planteamiento del diseño de elementos mecánicos en el que se propone la posibilidad del control conjunto de la geometría de las piezas y de la variación en el espacio de las propiedades del material que las forman. Este avance es una aplicación de las técnicas de fabricación aditiva que poseen la capacidad de depositar distintos materiales selectivamente. Lo que se busca es que mediante el diseño de variaciones graduales en la composición o estructura del material de una pieza, se consiga mejorar la respuesta de la misma a una solicitud determinada. La técnica de Deposición de Metales con Láser (LMD) puede ser adaptada para el control de la composición del material depositado mediante la introducción de una unidad de mezclado en el sistema de alimentación de polvo. En este trabajo se han realizados varios pasos para caracterizar apropiadamente un sistema LMD y poder determinar cuando la realización con éxito de una pieza con gradiente funcional es posible. Se ha conseguido establecer cuando un gradiente es alcanzable y como modificar los parámetros del proceso para alcanzar la composición deseada en cada punto del volumen.
[Resumo] O prototipado rápido de gradientes funcionais é un novo plantexamento do diseño de elementos mecánicos no que se propón a posibilidade do control conxunto da xeometría das pezas e da variación no espazo das propiedades do material que as forman. Este avance é unha aplicación das técnicas de fabricación aditiva que posúen a capacidade de depositar distintos materiais selectivamente. O que se busca é que mediante o diseño de variacións graduais na composición ou estrutura do material dunha peza, se acade mellorar a resposta da mesma a unha solicitude determinada, e que isto leve á práctica sin necesidade de facer cambios no proceso de fabricación ou na planificación do mesmo. A técnica de Deposición de Metais con Láser (LMD) pode ser adatada para o control da composición do material depositado mediante a introdución dunha unidade de mesturado no sistema de alimentación do po. Neste traballo realizaronse varios pasos para caracterizar apropiadamente un sistema LMD e pode determinar como e cando, a realización con éxito da construción de pezas con gradiente funcional é posible. Conseguiuse establecer cando un gradiente é alcanzable e como modificar os parámetros do proceso para acadar a composición desexada en cada punto do volume.
[Abstract] Rapid prototyping of functionally graded materials is a novel approach to the design of mechanical elements that allows the control of the part geometry along with the spatial variation of the its material properties. This advance is an application of the additive manufacturing techniques that are able to deposit materials selectively. The intended objective is the introduction of a gradual change in the composition or structure of a mechanical part, to obtain an improvement in its behavior.This has to be achieved in practice without making changes to the fabrication process or its planification. Laser Material Deposition (LMD) is a technique that can be adapted to control the composition of the deposited material by the introduction of a mixing element in the material transport circuit. However to achieve a correct selective deposition process, the precise control of the actuators that dose the feeding materials is necessary . In this work different steps have been taken to proper characterize a LMD system in order to determine when the manufacturing of a certain functionally graded part is possible. It can be established if the deposition of a certain composition map is achievable and how to modify the parameters of the process to build the final part.
Keywords
Electroformación
Compuestos de matriz metálica
Description
Programa Oficial de Doutoramento en Fotónica e Tecnoloxías do Láser . 507V01
Rights
Atribución-NoComercial-SinDerivadas 3.0 España