A construcción biográfica do labor de orientación en educación infantil e primaria en Galicia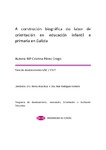 Title
A construcción biográfica do labor de orientación en educación infantil e primaria en Galicia
Author(s)
Directors
Rodríguez Romero, María del Mar
Arza Arza, Neves

Date
2017
Abstract
[Resumo] Nesta pesquisa abórdase a construción do labor de orientación en educación infantil e primaria no escenario socioeducativo e lexislativo de Galicia. A partir dun estudo metodolóxico biográfico-narrativo investíganse as traxectorias de cinco orientadoras fraguadas no transcurso de experiencias vitais e profesionais que comezan antes da institucionalización da orientación en Galicia. Preséntase dous tipos de resultados: as historia de vida individuais e a análise comparativa das cinco narrativas. Ca análise comparativa reconstrúese o sentido do labor de orientación amosando as relacións entre o contexto socioeducativo, as experiencias e as representacións das profesionais investigadas. Os achados amosan que as orientadoras foron construíndo as súas representacións sobre o labor focalizándose na atención á diversidade, entendida dende o modelo de integración. Tanto as condicións de traballo como as demandas do profesorado, focalizadas nas necesidades do alumnado individual, combínanse para limitar o horizonte do labor. Aínda así, a análise realizada revelou a formulación diferencial da praxe orientadora segundo tres patróns de identidade profesional: identidade activista, identidade proactiva e identidade pragmática.
[Resumen] En esta investigación se aborda la construcción de la labor de orientación en educación infantil y primaria en el escenario socioeducativo y legislativo de Galicia. A partir de un estudio metodológico biográfico-narrativo, se investiga, las trayectorias de cinco orientadoras fraguadas en el transcurso de experiencias vitales y profesionales que comienzan antes de la institucionalización de la orientación en Galicia. Se presentan dos tipos de resultados: las historia de vida individuales y el análisis comparativo de las cinco narrativas. Con el análisis comparativo se reconstruye el sentido de labor de orientación mostrando las relaciones entre el contexto, las experiencias y las representaciones. Los hallazgos muestran que las orientadoras fueron construyendo sus representaciones focalizándose en la atención a la diversidad, entendida desde el modelo de integración. Tanto las condiciones de trabajo como las demandas del profesorado, focalizadas en las necesidades de alumnado individual, se combinan para limitar el horizonte de la labor. No obstante el análisis evidencia que hay una formulación diferencial de la praxis orientadora según tres patrones de identidad profesional: identidad activista, identidad proactiva e identidad pragmática.
[Abstract] In this research we study the school counselling profession in early childhood and primary education within Galicia´s legal and socio-educational context. Using a biographic-narrative methodology, we research the trajectory of five school counsellors developed along their life and professional experiences beginning before the institutionalization of school counselling profession in Galicia. We present two kinds of findings: life stories of each counsellor and a comparative analysis contrasting the five narratives. The comparative analysis allows us to rebuild the meaning of the profession showing the relationships among the contexts, the experiences, and their representations. The findings illustrate that the school counsellors construct the professional representations focusing on addressing diversity understood as integration. Contextual conditions and demands from teachers, focusing in individual special needs, work together to limit the horizon of the profession. Nevertheless, the analysis reveals that there is a differential formulation of the school counselling praxis in relation to three specific styles: activist identity, proactive identity and pragmatic identity.
Keywords
Orientación escolar-Galicia
Tutores y tutoría (Educación)
Description
Programa Oficial de Doutoramento en Innovación, Orientación e Avaliación Educativa. 517V01
Rights
Os titulares dos dereitos de propiedade intelectual autorizan a visualización do contido desta tese a través de Internet, así como a súa reproducción, gravación en soporte informático ou impresión para o seu uso privado e/ou con fins de estudo e de investigación. En nengún caso se permite o uso lucrativo deste documento. Estos dereitos afectan tanto ó resumo da tese como o seu contido Los titulares de los derechos de propiedad intelectual autorizan la visualización del contenido de esta tesis a través de Internet, así como su repoducción, grabación en soporte informático o impresión para su uso privado o con fines de investigación. En ningún caso se permite el uso lucrativo de este documento. Estos derechos afectan tanto al resumen de la tesis como a su contenido