Prioridades y necesidades ocupacionales percibidas por las familias de niños con trastorno del espectro del autismo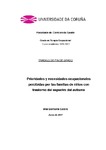 Collections
Title
Prioridades y necesidades ocupacionales percibidas por las familias de niños con trastorno del espectro del autismo
Author(s)
Directors
Groba, Betania
Gándara Gafo, Berta

Date
2017-06
Center/Dept./Entity
Universidade da Coruña. Facultade de Ciencias da Saúde
Description
Traballo fin de grao (UDC.FCS). Terapia ocupacional. Curso 2016/2017
Abstract
[Resumen] La disciplina de Terapia ocupacional, ha ido evolucionando en la intervención en el ámbito del autismo, hasta llegar a una práctica centrada en la persona y la familia. Desde este prisma, se caracteriza por priorizar la globalidad de la persona antes que los déficits, considerando sus entornos y contextos de importancia en la intervención. La práctica centrada en la familia, trata de dar visibilidad e importancia a las necesidades ocupacionales de las familias y niños con TEA. Desde la disciplina, se fomentar el desempeño ocupacional de las personas con TEA y su familia, dentro de sus contextos. El objetivo general del estudio es explorar y definir las prioridades y necesidades ocupacionales percibidas por las familias de niños con TEA. Se emplea una metodología mixta, que proporciona una perspectiva cuantitativa y cualitativa de la interpretación de los datos. La metodología cuantitativa, permite la realización de un estudio descriptivo de tipo observacional transversal. Y la metodología cualitativa se enmarca dentro del paradigma fenomenológico. Las principales técnicas de de recogida de datos es la entrevista semi-estructurada, el cuaderno de campo y la medida canadiense de rendimiento ocupacional.
[Resumo] A disciplina de Terapia ocupacional, foi evolucionando na intervención no ámbito do autismo, ata chegar a unha práctica centrada na persoa e a familia. Desde este prisma, caracterízase por priorizar a globalidad da persoa antes que os déficits, considerando as súas contornas e contextos de importancia na intervención. A práctica centrada na familia, trata de dar visibilidade e importancia ás necesidades ocupacionais das familias e nenos con TEA. Desde a disciplina, fomentarse o desempeño ocupacional das persoas con TEA e a súa familia, dentro dos seus contextos. O obxectivo xeral do estudo é explorar e definir as prioridades e necesidades ocupacionais percibidas polas familias de nenos con TEA. Emprégase unha metodoloxía mixta, que proporciona unha perspectiva cuantitativa e cualitativa da interpretación dos datos. A metodoloxía cuantitativa, permite a realización dun estudo descritivo de tipo observacional transversal. E a metodoloxía cualitativa enmárcase dentro do paradigma fenomenológico. As principais técnicas de de recollida de datos é a entrevista semi-estruturada, o caderno de campo e a medida canadense de rendemento ocupacional.
[Abstract] The discipline of Occupational Therapy has evolved in the in the intervention in the field of autism to a more family and person-centered practice. From this point of view, it is characterised by prioritizing the totality of the person rather than the deficits, considering as important in the intervention their environments and contexts. Practice focused on the family tries to give visibility and importance to the occupational needs of families and children with ASD. The occupational performance of people with ASD and their families is encouraged by the discipline within their contexts. The overall objective of the study is to explore and define the priorities and occupational needs perceived by families of children with ASD. A mixed methodology is used to provide a quantitative and qualitative perspective on the interpretation of the data. Quantitative methodology allows the realization of a descriptive study of transverse observational type. And qualitative methodology is part of the phenomenological paradigm. The main techniques of data collection are the semi-structured interview, field notebook and the Canadian measure of occupational performance.
Keywords
Trastorno del espectro del autismo
Terapia ocupacional
Práctica centrada en la familia
Trastorno do espectro do autismo
Práctica centrada na familia
Autism spectrum disorder
Occupational therapy
Family-centered practice
Rights
Os titulares dos dereitos de propiedade intelectual autorizan a visualización do contido deste traballo a través de Internet, así como a súa reproducción, gravación en soporte informático ou impresión para o seu uso privado e/ou con fins de estudo e de investigación. En nengún caso se permite o uso lucrativo deste documento. Estos dereitos afectan tanto ó resumo do traballo como o seu contido Los titulares de los derechos de propiedad intelectual autorizan la visualización del contenido de este trabajo a través de Internet, así como su repoducción, grabación en soporte informático o impresión para su uso privado o con fines de investigación. En ningún caso se permite el uso lucrativo de este documento. Estos derechos afectan tanto al resumen del trabajo como a su contenido