Efectividad del entrenamiento muscular respiratorio en los pacientes con enfermedad pulmonar obstructiva crónica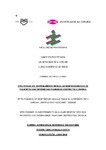 Title
Efectividad del entrenamiento muscular respiratorio en los pacientes con enfermedad pulmonar obstructiva crónica
Alternative Title(s)
Effectiveness of respiratory muscle training in patients with chronic obstructive pulmonary disease
Efectividade do adestramento muscular respiratorio nos pacientes con enfermidade pulmonar obstructiva crónica

Author(s)
Directors
Carballo-Costa, Lidia
Date
2016
Center/Dept./Entity
Universidade da Coruña. Facultade de Fisioterapia
Description
Traballo fin de grao (UDC.FCS). Fisioterapia. Curso 2015/2016.
Abstract
[Resumen] Objetivo: Conocer la evidencia existente sobre la efectividad del tratamiento con entrenamiento muscular respiratorio en la Enfermedad Pulmonar Obstructiva Crónica (EPOC). Material y Métodos: Se realiza una búsqueda de artículos en las bases de datos Pubmed/Medline, Scopus, PEDro y Web of Science, que hablen del efecto del entrenamiento muscular respiratorio en la EPOC, cuya lengua de publicación sea el castellano, el inglés, el francés, el italiano o el portugués. Se buscan artículos publicados desde el año 2005 hasta mayo de 2016. Resultados: Han sido incluidos 11 artículos después de la estrategia de búsqueda y selección utilizada. En ellos, se miden los efectos del entrenamiento respiratorio en la EPOC. Únicamente un artículo habla acerca del entrenamiento muscular espiratorio mientras que los otros diez artículos tratan del entrenamiento muscular inspiratorio. Conclusión: A través del análisis de los diferentes artículos estudiados podemos decir que el entrenamiento respiratorio produce una mejora significativa en las variables estudiadas: fuerza y resistencia de la musculatura respiratoria, tolerancia al ejercicio, disnea y calidad de vida. No podemos valorar qué tipo de entrenamiento resulta más eficaz.
[Abstract] PURPOSE: To determine the evidence of the efecctiveness of treatment with respiratory muscle training in Chronic Obstructive Pulmonary Disease. METHODS: A search in Pubmed/Medline, Scopus, PEDro and Web of Science, wich speak of the effect of respiratory muscle training in COPD whose publication language is Spanish, English, French, Italiano or Portuguese. Articles published from 2005 through June 2016 are sougth. RESULTS: There were used 11 articles after the search and selection strategy used. In them, the effects of respiratory muscle training in COPD are measured. Only one article talks about expiratory muscle training while the other then articles talks deal of inspiratory muscle training. CONCLUSION: Through the analysis of diferente articles studied we can say that the respiratory training produces a significant improvement in the studied variables: strength and endurance of the respiratory muscles, exercise tolerance, dyspnea and quality of live. We can not assess what training is more effective.
[Resumo] OBXETIVO: Coñecer a evidencia existente da efectividade do tratamento con adestramento muscular respiratorio na Enfermidade Pulmonar Obstrutiva Crónica (EPOC). MATERIAL E MÉTODOS: Realízase unha busca de artigos nas bases de datos Pubmed/Medline, Scopus, PEDro e Web of Science, que falen do efecto do adestramento muscular respiratorio na EPOC. Os idiomas nos que se realizou a busca foron: castelan, inglés, francés, italiano e portugués, dende o ano 2005 ata Xuño de 2016. RESULTADOS: Foron incluidos 11 artigos despois de aplicar a estratexia de busca e selección. Neles, midense os efectos do adestramento muscular respiratorio na EPOC. Únicamente un artigo fala sobre o adestramento muscular espiratorio, mentres que os outros analizan o adestramento muscular inspiratorio CONCLUSIÓN: A través da análise dos diferentes artigos estudiados podemos falar de que o adestramento respiratorio produce unha mellora significativa das variables estudiadas: forza e resistencia da musculatura respiratoria, tolerancia o exercicio, disnea e calidade de vida. Non podemos determinar que adestramento resulta máis eficaz.
Keywords
Enfermedad pulmonar obstructiva crónica (EPOC)
Entrenamiento muscular respiratorio
Disnea
Calidad de vida
Chronic obstructive pulmonary disease (COPD)
Respiratory muscle training
Dyspnea
Quality of life
Enfermidade pulmonar obstrutiva crónica (EPOC)
Adestramento muscular respiratorio
Calidade de vida
Rights
Os titulares dos dereitos de propiedade intelectual autorizan a visualización do contido deste traballo a través de Internet, así como a súa reproducción, gravación en soporte informático ou impresión para o seu uso privado e/ou con fins de estudo e de investigación. En nengún caso se permite o uso lucrativo deste documento. Estos dereitos afectan tanto ó resumo do traballo como o seu contido Los titulares de los derechos de propiedad intelectual autorizan la visualización del contenido de este trabajo a través de Internet, así como su repoducción, grabación en soporte informático o impresión para su uso privado o con fines de investigación. En ningún caso se permite el uso lucrativo de este documento. Estos derechos afectan tanto al resumen del trabajo como a su contenido