Arbitraje y mediación de consumo: aspectos organizativos y procesales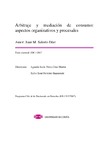 Not available until 2020-08-10
Title
Arbitraje y mediación de consumo: aspectos organizativos y procesales
Author(s)
Directors
Pérez-Cruz Martín, Agustín J.
Ferreiro Baamonde, Xulio

Date
2017
Abstract
[Resumen] El arbitraje de consumo, un mecanismo ágil, flexible y gratuito de resolución de conflictos, se concibe como instrumento para la defensa de los derechos de los consumidores y usuarios. En la presente tesis se desarrolla un estudio detallado de su procedimiento, que, pese a su peculiaridad, inevitablemente enraíza con la teoría general del proceso, ofreciéndose múltiples oportunidades para la reflexión desde una perspectiva garantista. Se presta especial detalle al marco institucional en el que se ubica el arbitraje de consumo y al modo en que dicho marco influye en el convenio. Por su relevancia, merece un tratamiento aparte la fase de mediación, un mecanismo dotado de entidad propia y que, no obstante, se halla incorporado al arbitraje de consumo.
[Resumo] A arbitraxe de consumo, un mecanismo áxil, flexible e de balde para a resolución de conflitos, concíbese como instrumento para a defensa dos dereitos dos consumidores e usuarios. Na presente tese desenvólvese un estudo detallado do seu procedemento, que, pese a súa peculiaridade, inevitablemente enraíza coa teoría xeral do proceso, ofrecéndose múltiples oportunidades para a reflexión desde unha perspectiva garantista. Préstase especial detalle ao marco institucional no que se sitúa a arbitraxe de consumo e ao modo en que dito marco inflúe no convenio. Pola súa relevancia, merece un tratamento aparte a fase de mediación, un mecanismo dotado de entidade propia e que, non obstante, áchase incorporado á arbitraxe de consumo.
[Abstract] Consumer arbitration, an agile, flexible and cost-free dispute resolution mechanism, is conceived as an instrument to safeguard consumers' rights. In this dissertation a detailed study of consumer arbitration procedure is developed. This procedure, despite its peculiarity, is closely linked to the general theory of the process, and it provides a most valuable opportunity to reflect upon this general theory from a rights-based perspective. Particular attention is given both to the institutional framework which configures consumer arbitration and to the ways in which this framework influences the agreement. In addition, the mediation phase is particularly examined, since it is a most critical component of the consumer arbitration procedure.
Keywords
Arbitraje (Derecho)-España
Mediación
Gestión de conflictos
Consumidores-Protección-Derecho-España
Description
Programa Oficial de Doutoramento en Dereito. 5010V01
Rights
Os titulares dos dereitos de propiedade intelectual autorizan a visualización do contido desta tese a través de Internet, así como a súa reproducción, gravación en soporte informático ou impresión para o seu uso privado e/ou con fins de estudo e de investigación. En nengún caso se permite o uso lucrativo deste documento. Estos dereitos afectan tanto ó resumo da tese como o seu contido Los titulares de los derechos de propiedad intelectual autorizan la visualización del contenido de esta tesis a través de Internet, así como su repoducción, grabación en soporte informático o impresión para su uso privado o con fines de investigación. En ningún caso se permite el uso lucrativo de este documento. Estos derechos afectan tanto al resumen de la tesis como a su contenido