The relationship between NMR chemical shifts of thermally polarized and hyperpolarized 89Y complexes and their solution structures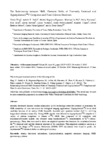 View/Open
Title
The relationship between NMR chemical shifts of thermally polarized and hyperpolarized 89Y complexes and their solution structures
Author(s)
Date
2016-11-07
Citation
Xing, Y., Jindal, A. K., Regueiro-Figueroa, M., Le Fur, M., Kervarec, N., Zhao, P., Kovacs, Z., Valencia, L., Pérez-Lourido, P., Tripier, R., Esteban-Gómez, D., Platas-Iglesias, C., Sherry, A. D. (2016), The Relationship between NMR Chemical Shifts of Thermally Polarized and Hyperpolarized 89Y Complexes and Their Solution Structures. Chem. Eur. J., 21: 16657–16667. https://doi.org/10.1002/chem.201602901
Abstract
[Abstract] Recently developed dynamic nuclear polarization (DNP) technology offers the potential of increasing the NMR sensitivity of even rare nuclei for biological imaging applications. Hyperpolarized 89Y is an ideal candidate because of its narrow NMR linewidth, favorable spin quantum number (I= ), and long longitudinal relaxation times (T1). Strong NMR signals were detected in hyperpolarized 89Y samples of a variety of yttrium complexes. A dataset of 89Y NMR data composed of 23 complexes with polyaminocarboxylate ligands was obtained using hyperpolarized 89Y measurements or 1H,89Y-HMQC spectroscopy. These data were used to derive an empirical equation that describes the correlation between the 89Y chemical shift and the chemical structure of the complexes. This empirical correlation serves as a guide for the design of 89Y sensors. Relativistic (DKH2) DFT calculations were found to predict the experimental 89Y chemical shifts to a rather good accuracy.
Keywords
Density functional calculations
Hyperpolarization
Magnetic resonance imaging
NMR spectroscopy
Yttrium
Editor version
Rights
This is the peer reviewed version of the following article: Xing, Y., Jindal, A. K., Regueiro-Figueroa, M., Le Fur, M., Kervarec, N., Zhao, P., Kovacs, Z., Valencia, L., Pérez-Lourido, P., Tripier, R., Esteban-Gómez, D., Platas-Iglesias, C., Sherry, A. D. (2016), The Relationship between NMR Chemical Shifts of Thermally Polarized and Hyperpolarized 89Y Complexes and Their Solution Structures. Chem. Eur. J., 21: 16657–16667, which has been published in final form at https://doi.org/10.1002/chem.201602901. This article may be used for non-commercial purposes in accordance with Wiley Terms and Conditions for Self-Archiving.
ISSN