Investissements belges dans les chemins de fer à voie étroite en Espagne entre 1887 et 1936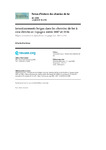 View/Open
Collections
Title
Investissements belges dans les chemins de fer à voie étroite en Espagne entre 1887 et 1936
Author(s)
Date
2008
Citation
Martínez López, A. (2008). Investissements belges dans les chemins de fer à voie étroite en Espagne entre 1887 et 1936. Revue d'histoire des chemins de fer, n. 38, pp. 38-190
Abstract
[Résumé]: Dans le présent travail, nous étudions les entreprises belges qui ont investi dans le secteur ferroviaire à voie étroite en Espagne. Celles-ci commencent à être fondées à la fin du XIXe siècle, grâce à l'essor boursier bruxellois et au nouveau cadre législatif ferroviaire qui privilégiait les chemins de fer à voie étroite. La plupart de ces sociétés sont établies dans les périphéries minières et industrielles pour faciliter l'acheminement de la production en se reliant au réseau à voie large et aux ports. Les résultats économiques ont été, en général, mauvais, car la demande a été inférieure à celle qui était attendue et parce que les charges financières étaient trop lourdes. Cette situation s'aggrave lors de la crise ferroviaire de l'après-guerre, ce qui, ajouté au climat nationaliste de l'époque, provoque la liquidation ou la vente des actifs à des sociétés espagnoles.
[Abstract]: This paper looks at Belgian companies with interests in the Spanish narrow gauge railway sector. These companies were founded at the end of the 19th century, a process that is intimately linked to the rise of the Brussels stock exchange and the recently established legislative framework for railways, which favoured narrow gauge lines. Most of these companies were set up in the periphery, where mining and other industrial activity was taking place. The lines provided a mean of distributing produce and were connected to broad gauge lines and ports. The economic results were, on the whole, poor, given that demand was lower than expected and the fact that the financial burden which the projects entailed was substantial. This situation worsened during the post First World War years in which there was a widespread crisis in the railway industry on a whole. This crisis, combined with the dominant nationalistic climate of the moment, meant that, at least in most cases, the companies either went into liquidation or their assets fell into the hands of Spanish firms.
[Resumen]: La amplia disponibilidad de carbón y hierro hizo que la economía belga se orientase precozmente hacia la industria metalúrgica, especializándose en la producción de material ferroviario y tranviario, con el respaldo de un potente sector financiero. El mercado interno para este tipo de productos comenzó a saturarse a finales del siglo XIX. Esto motivó la expansión internacional de estas actividades a cargo de holdings creados frecuentemente por la banca mixta. Esta expansión implicaba por un lado la colocación de capitales belgas en el exterior para la constitución de empresas de ferrocarriles secundarios, tranvías y, algo más adelante, eléctricas y por otra parte la demanda de productos metalúrgicos, material móvil y electromecánico por parte de esas empresas a las sociedades de la metrópolis participadas por los grupos financieros matrices de los holdings electrotranviarios, que en ocasións actuaban de pantalla de los potentes grupos eléctricos alemanes. En este contexto eufórico finisecular es en el que surge la Compagnie Mutuelle de Tramways. Su primera etapa, 1895-1900, es de intenso crecimiento, con una clara y precoz vocación internacional orientada hacia el prometedor mercado ruso. Su definida estrategia consiste en la unificación y electrificación de las redes tranviarias. Después de la breve pero pronunciada crisis de principios de siglo conocerá la fase de gloria hasta la Gran Guerra. Ésta y, sobre todo, la revolución rusa afectará duramente al negocio, ocasionando su reorganización en la posguerra.
Keywords
Chemin de fer
Belgique
Investissement étranger
Espagne
Railway
Foreign invesrment
Belgium
Spain
Ferrocarril
Bélgica
Inversión extranjera
España
ISSN
0996-9403