Self-compacting recycled concrete: basic mechanical properties, rheology, robustness and thixotropy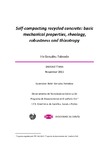 Title
Self-compacting recycled concrete: basic mechanical properties, rheology, robustness and thixotropy
Author(s)
Directors
González Fonteboa, Belén
Date
2016
Center/Dept./Entity
Universidade da Coruña. Departamento de Tecnoloxía da Construción
Abstract
[Abstract] This work is focused on the study of hardened and fresh behaviour of self-compacting recycled concrete (SCRC) with different replacement percentages of recycled concrete coarse aggregate (0%, 20%, 50% and 100%). Regarding hardened behaviour (compressive strength, modulus of elasticity and splitting tensile strength), it has been analysed how the incorporation of recycled coarse aggregate affects self-compacting concrete (SCC). To do so, a database was created with published results regarding vibrated recycled concrete. Different correction coefficients were adjusted to adapt code expressions to this type of concrete. Also, specific prediction expressions for vibrated recycled concretes were adjusted as an alternative to code formulations. Lastly, it has been concluded that both the correction coefficients and the specific expressions can be used with the same accuracy in SCRC as in vibrated recycled concrete. Regarding fresh behaviour, the relationships between rheological and empirical parameters were analysed concluding that they show the same trend in SCRC as in SCC. In this context, the research has also studied the specificity of SCRC rheology and its influence on the fresh behaviour over time. The achieved conclusions lead to state that this specificity lies in the extra water added to compensate the recycled aggregate absorption and in the intrinsic characteristics of this aggregate. Moreover, the SCRC robustness has been analysed through sensitivity parameters and a statistical approach, defining which factors affect it to a greater extent and which tests provide more sensitivity when this property is studied. Finally, SCRC thixotropy has been evaluated measuring also its influence on interlayer bond strength.
[Resumen] Este trabajo se centra en el estudio del comportamiento en estado fresco y endurecido del hormigón autocompactante reciclado (HACR) con diferentes porcentajes de sustitución de árido grueso reciclado de hormigón (0%, 20%, 50% y 100%). En relación con el comportamiento en estado endurecido (resistencia a compresión, módulo de elasticidad y resistencia a tracción), se ha analizado cómo afecta al hormigón autocompactante (HAC) la incorporación de árido grueso reciclado. Para realizar este análisis, se ha creado una base de datos con resultados publicados sobre hormigón vibrado reciclado y se han ajustado diferentes coeficientes de corrección para adaptar las expresiones normativas a este tipo de hormigón. Asimismo, se han ajustado expresiones predictivas específicas para el hormigón vibrado reciclado como alternativa a las formulaciones de las normativas. Finalmente, se ha concluido que tanto los coeficientes de corrección como las expresiones específicas pueden utilizarse en el HACR con la misma precisión que en el hormigón vibrado reciclado. Por lo que respecta al comportamiento en estado fresco, se han analizado las relaciones entre parámetros reológicos y empíricos concluyéndose que siguen la misma tendencia en el HACR que en el HAC. En este contexto, la investigación ha estudiado también la particularidad de la reología del HACR y su influencia en el comportamiento en fresco con el transcurso del tiempo. Las conclusiones alcanzadas permiten exponer que esta particularidad radica en la cantidad de agua extra añadida para compensar la absorción del árido reciclado y en las características intrínsecas de este árido. Además, se ha analizado la robustez del HACR a través de parámetros de sensibilidad y de una aproximación estadística, definiéndose qué factores afectan en mayor medida y qué ensayos proporcionan más sensibilidad cuando se estudia esta propiedad. Por último, se ha evaluado la tixotropía del HACR midiéndose también su influencia en la adherencia entre capas.
[Resumo] Este traballo céntrase no estudo do comportamento en estado fresco e endurecido do formigón autocompactante (FACR) con diferentes porcentaxes de substitución de árido groso reciclado de formigón (0%, 20%, 50% y 100%). No referente ao comportamento no estado endurecido (resistencia a compresión, módulo de elasticidade e resistencia a tracción), analizouse como afecta ao formigón autocompactante (FAC) a incorporación de árido groso reciclado. Para levar a cabo esta análise, creouse unha base de datos con resultados publicados sobre o formigón vibrado reciclado e axustáronse diferentes coeficientes correctores para adaptar as expresións normativas a este tipo de formigón. Así mesmo, axustáronse expresións preditivas específicas para o formigón vibrado reciclado como unha alternativas ás formulacións das normativas. Finalmente, concluíuse que tanto os coeficientes correctores como as expresión específicas se poden empregar no FACR coa mesma precisión que no formigón vibrado reciclado. Polo que respecta ao comportamento no estado fresco, analizáronse as relacións entre parámetros reolóxicos e empíricos concluíndose que seguen a mesma tendencia no FACR que no FAC. Neste contexto, a investigación estudou tamén a particularidade da reoloxía do FACR e a súa influencia no comportamento en fresco co transcurso do tempo. As conclusións alcanzadas permiten expoñer que esta particularidade radica na cantidade de auga extra engadida para compensar a absorción do árido reciclado e nas características intrínsecas deste árido. Ademais, analizouse a robustez do FACR a través de parámetros de sensibilidade e dunha aproximación estatística, definíndose que factores afectan en maior medida e que ensaios proporcionan máis sensibilidade cando se estuda esta propiedade. Por último, avaliouse a tixotropía do FACR medíndose tamén a súa influencia na adherencia entre capas.
Keywords
Reología
Hormigón-Reciclaje
Tixotropia
Description
Programa de doutoramento en Enxeñaría Civil. 5011V01
Rights
Os titulares dos dereitos de propiedade intelectual autorizan a visualización do contido desta tese a través de Internet, así como a súa reproducción, gravación en soporte informático ou impresión para o seu uso privado e/ou con fins de estudo e de investigación. En nengún caso se permite o uso lucrativo deste documento. Estos dereitos afectan tanto ó resumo da tese como o seu contido Los titulares de los derechos de propiedad intelectual autorizan la visualización del contenido de esta tesis a través de Internet, así como su repoducción, grabación en soporte informático o impresión para su uso privado o con fines de investigación. En ningún caso se permite el uso lucrativo de este documento. Estos derechos afectan tanto al resumen de la tesis como a su contenido